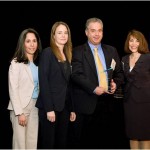 Presentation of  the New York State Association for Affordable Housing (NYSAFAH) Award for Project of the Year – Upstate. To the far left is Priscilla Almodovar, Chief Operating Officer of Chase Community Development, Alison Badgett, Executive Director of NYSAFAH, Steven Aaron, Managing Member of Birchez Associates, Ann Soja, President of First Sterling. Picture credit: John Halpern
Steven L. Aaron, Managing Member & Founder of Birchez Associates
Steve Aaron has devoted his career to providing homes seniors and working families can afford in supportive communities where they can thrive. He has a 30-year background in business and civic activities, excelling in both through his perseverance for success.
His career began at Fowler & Keith, where he gained valuable insight into the construction and real estate industries. This knowledge, combined with professional experience, laid the foundation for his formation of Birchez Associates in 2002, which embodies a community-based spirit while highlighting the need for quality affordable housing. Steve's vision is not just an idea – it is a reality proven by the completion of projects that have transformed the lives of over 400 area families. To view the Evolving Story of Birchez Associates on video, click here.
Through Steve's dedication and determination, Birchez Associates developed Kingston's first affordable workforce family housing in 30 years and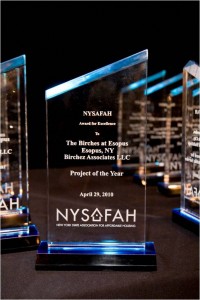 one of first the affordable housing developments in New York State to offer adaptable and accessible housing designed to allow seniors to "age in place." The Birches at Chambers, his fifth community demonstrates Steve's efforts to push the envelope in energy efficiency, quality of construction, and in the style and amenities he brings to affordable housing. His efforts were recognized when the New York State Association for Affordable Housing awarded Project of the Year – Upstate to The Birches at Esopus. For a video tour of The Birches at Esopus, please click here.
A tireless advocate, Steve actively participates in efforts to raise awareness of the need for more and better affordable housing. As an example, Birchez Associates hosted a meeting at The Birches at Esopus for local and regional bankers and government officials to announce an equity fund dedicated to developing affordable housing in our region. As Steve noted at that meeting, "Even in the most challenging economic times, by pulling together the public and private sectors, we can continue increasing the supply of affordable housing for our senior citizens and working families." For a video discussing the financial pieces that go into affordable housing, please click here.

The picture above shows the NYSAFAH award for Project of  the Year, presented to Steve Aaron at the annual conference held in  NYC.
In the picture to the left, Steve Aaron is holding the New York State Energy Research & Development Authority (NYSERDA) plaque for  The Birches at Esopus with contractor Joseph Malcarne (on left).
Long active in affordable housing organizations, Steve currently serves as a board member of the New York State Association for Affordable Housing and as an executive board member of the former Ulster County Housing Consortium, for which he was actively involved in the public awareness campaign for affordable housing.  He hosted the launch of the Consortium's "Give Housing A Voice" campaign at The Birches at Esopus, a perfect setting to both showcase and to discuss what a positive impact a healthy housing mix can make in a community setting. In fact Ulster County Chamber of Commerce and the Ulster County Development Corporation had awarded Birchez Associates' second senior housing community, The Birches at Saugerties, the Building of the Year award, reflecting its integration of design aesthetics with community needs. Steve Aaron and his wife Judy were also honored when the Town of Ulster, in which Birchez Associates has completed two senior communities, with the "Steve and Judy Aaron Day."
Steve's dedication to this community extends far beyond buildings. He is a founding member of the Kingston Midtown Business Association; Birchez Associates LLC is a member of the Dutchess County Regional Chamber of Commerce, Orange County Chamber of Commerce, Schoharie Promotional Council, Ulster County Chamber of Commerce, Esopus Business Alliance, Mid-Hudson Pattern for Progress and the National Trust for Historic Preservation. He previously served on the board of United Cerebral Palsy of Ulster County. His support of many community organizations, such as the United Jewish Appeal,  Boy Scouts of America, American Legion, Jewish Family Services, People's Place of Ulster County and the Resource Center for Accessible Living (RCAL), exemplifies his diverse interests and his pledge to enhance the empowerment of organizations that advocate for the spirit of betterment for all.
Visit Steve Aaron's profile on LinkedIn click here.
Below, Steve Aaron invites his wife Judy and son Josh to the podium during the ribbon cutting ceremonies at The Birches at Esopus.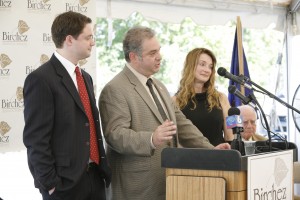 To view an interview with Steve Aaron, recorded at the ribbon cutting for The Birches at Esopus, click on the forward arrow.

Joshua T. Aaron is the Chief Operations Officer (COO) at Birchez Associates LLC after serving for over a decade as the company's chief information officer (CIO) as well as fielding numerous other key responsibilities since the organization's founding. In his current role, Josh oversees the development of all new projects from site selection, initial concept and design through to construction and ribbon cutting. He also handles the day-to-day general administration of all new projects, and conceives of and oversees aspects of the company's media outreach and web presence. Josh is the third generation in the ongoing family history of real estate development, construction and property management.
Stephen M. Fell, the Chief Financial Officer (CFO) of Birchez Associates LLC, has been with the company since its inception. He has participated at various levels in numerous real estate and other development projects. Stephen has been associated with this and other related entities for over 25 years in various capacities related to finance, bank relations, tax, budgeting, accounting, compliance and reporting. Previously, he held the position of International Finance Director for a Fortune 100 Company where he was involved in business development and acquisitions covering thirty-two foreign countries worldwide. He has extremely diverse experience in both the international business sector and in many states within the United States.
K.J. McIntyre is the Director of Marketing and Public Relations for Birchez Associates LLC. K.J. joined the firm in 2009 after careers in finance, marketing and real estate. In her current position, she supports the company's new projects from demographic/site feasibility and financing through rent up phases, as well as ongoing marketing for existing communities. In addition, K.J. coordinates philanthropic activities for Birchez Associates and the Birchez Foundation. Before moving to the Hudson Valley, she was Senior Vice President at Shearson/American Express. She has been featured in national press both as a profile subject and as a financial expert; Advertising Age credited her communications initiatives as saving a major Wall Street firm during a time of crisis. Once leaving New York City behind her, K.J. opened McIntyre Marketing, a niche marketing company specializing in communications and business planning whose clients ranged from Dun & Bradstreet to local start-ups. Simultaneously she was active in real estate as a broker and real estate instructor. K.J. has a broad history of community service: she is a past President of the Board of Trustees of the Kingston Library and was on the board of directors for the Children's Home of Kingston, the Kingston Uptown Business Association, the Arts Society of Kingston and the Ulster County Board of Realtors. K.J. also served on the Waterfront Development Commission for the City of Kingston.