Alice Tipp Appreciation Day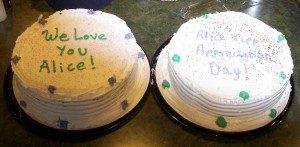 August 22, 2011, Town of Ulster: It's not easy surprising Alice Tipp, the Senior Advocate for Birchez Associates, but the Birchez staff and the residents of The Birches at Chambers and Chambers Court managed to do just that. Today it was Alice Tipp Appreciation Day!
Alice has served in her position for the last six years. And as Steve Aaron, Founder and Managing Director of Birchez Associates, often says, "Alice works five days a week and is the first one in every morning."
Alice has plenty of experience showing up and being on time having served thirty years in the Ulster County Legislature before accepting her position as Senior Advocate. Alice's experience is invaluable as she matches resources to the needs of the residents in the four Birchez communities she services.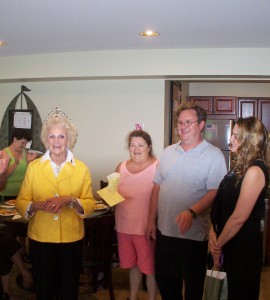 Appreciation was apparent in the applause, warmth and laughter expressed in the room of fifty or so. Among the attendees were several surprise guests including her son Tippy (Walter Scott Tipp II), her daughter Cheryl and son-in-law James McTague.
The residents presented Alice with a candle and candle holder to express the sentiment: "You Light up Our Lives."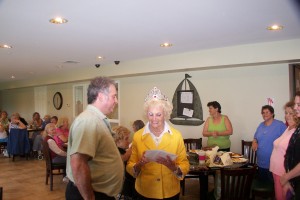 Steve and Judy Aaron presented Alice with a pearl necklace, and the staff gave her a basket of goodies and flowers. Ice cream cakes and pound cake rounded out her luncheon. Alice even read the sentiments of the many cards aloud and admired the stealth with which her friends had operated to pull off her surprise party.
The crown from Senior Property Manager Judy Fitzpatrick was just the right touch for a lady who deserves to be queen every day.