Birchez salutes Town of Ulster first responders
Source: MidHudsonNews.com 6/14/16                        TOWN OF ULSTER – Senior residents of The Birches of Chambers and Chambers Court this past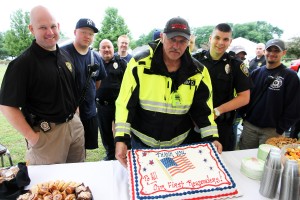 weekend hosted area first responders as a "thank you" for their continued service.
"No matter how many times we sponsor an appreciation brunch, the excitement is always there and our gratitutde to these dedicated men and women never ceases,: said Bichez founder and managing partner Steve Aaron. "The professional and friendly manner in which they serve our senior residents gives us great comfort."
"Not only do I feel a sense of security and comfort, but so does my family, knowing that if something should happen that help is at hand within minutes," said Mary Nielson, a resident at The Birches of Chambers since it opened in 2010. "I can live independently, but feel a sense of connectedness."
Ulster County Legislator James Maloney presented Pride of Ulster awards to the first responders.
Honorees included members of the Ulster County Sheriff's Office, Town of Ulster Police, Ulster Hose Fire Department #5 and Mobile Life Support Ambulance Service.
In addition to emergency call units, Birchez Associates has installed defibrillator stations at the properties and has provided staff training to assist until first responders arrive during emergencies.