Birchez Supports Birchwood Village Resident with College Scholarship
Birchez Associates LLC Founder Steven L. Aaron presented a Birchwood Village Scholarship Award to Birchwood Village resident Angelina Lyman to support her efforts to attend Hudson Valley Community College.
Lyman received her associate's degree in science from Ulster County Community College (UCCC) in 2015. In the fall, she began attending Hudson Valley Community College in Troy where she is studying mortuary science to receive a second associate's degree. Her goal is to graduate in three semesters and become a New York State-licensed funeral director. The scholarship award – given to Birchwood Village residents furthering their education – was for $3,600. Birchez has since given Lyman additional money for books and other school-related expenses.
"Each year Birchez Associates supports many worthy community causes and events in the communities that we serve, but this year it is extra special to support one of our residents and a member of our family that has been so courageous," Aaron said during the presentation. "We are humbled and honored to award the Birchwood Village Scholarship to Birchwood Village resident Angelina Lyman. She is a shining example of a student who persevered through the toughest of situations."
Lyman had been attending UCCC and was just months away from completing her associate's degree when her 3-year-old daughter, Annabella, was diagnosed with a rare, aggressive form of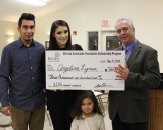 pediatric cancer – stage 4 neuroblastoma. "I had to make the heartbreaking decision to withdraw from my classes and the college to fight with everything I had in me to save my daughter," she said. After eight rounds of chemotherapy and three surgeries, Annabella was in remission. Once Annabella attained a year's remission, Lyman returned to Ulster County Community College.
Lyman made the dean's list and graduated with a 3.47 grade-point average from UCCC. She now commutes to Hudson Valley Community College.
"Becoming a mortician/funeral director has been a dream of mine since I was a child," Lyman said. "This scholarship allows me to continue my education while relieving a ton of financial stress. I can't thank Birchez Associates and Steve and Judy Aaron enough for their generosity to both me and my family.
For information on the Birchez Foundation, go to www.Birchez.com.