Building "Green" Retirement Communities Trending Now
Hudson Valley
Business Journal      

week of August 8, 2011
by Theresa Keegan
Baby boomers are continuing to do what they've been doing for the past six decades – defining the country's demographics. Only now instead of toy purchases, clothing trends or musical tastes, collectively, they're "trending" the housing market. Today, one of the few bright spots in the real restate industry are communities focused on senior or retirement living and those communities are often built with great attention being paid to green design.
"There's a general awareness and also an environmental enterprise about senior housing," said Joseph Malcarne, a Dutchess County contractor who specializes in energy-efficiency construction. He recently was involved in the construction of Birchez at Chambers Senior Community and utilized numerous improvements to make the project not just energy efficient but also healthier for the residents.
"You have people with various different health issues in the building," he said. With a site plan that accommodates people in multiple stages of aging, the Birchez is designed as an age-in-place facility. But Malcarne discovered that while such a plan is popular and sought after, it also poses some challenges such as you don't want the air from one unit circulating to another."It came as kind of an 'aha moment' after reviewing the design," he said. "Anything that's airborne could be moved throughout the building."
The LEED-certified expert devised an energy recovery ventilator system for each unit that recovers humidity and air temperature and individually exchanges it with fresh outside air every few hours. The result is a system that eliminates any chances of air-borne germs being spread to other units. And senior sensitivity to temperature was another main concern.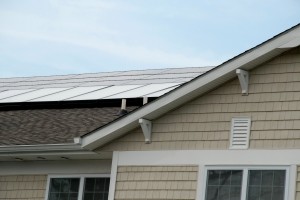 Although the main floor uses radiant heat and cooling, the individual senior units each has its own thermostat in a ductless format. "The heat core and energy core has the air go through a fine tube that they pass through," he said. "But there's a lot of surface area so the temperature remains constant. The energy-efficiency steps have resulted in Birchez earning a platinum LEED ranking. The solar thermal and photovoltaic panels came from local sources, so there wasn't even a large carbon imprint from shipping the energy efficient products.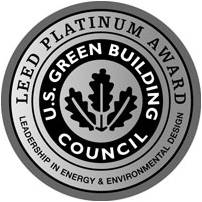 There are 66 units in the newest Birchez development, which is located in the Town of Ulster. It is served with public transportation options and on-site there is a fully equipped fitness studio, movie theater, crafts room, library game room, computer lab with internet access, as well as a Community Room for senior meetings and activities (that comes with a complete kitchen). The grounds have wheel chair and walker access from one end to the other, including patios and a gazebo.
But the project's overall appeal is not just in energy efficiency. It also includes flexibility to meet residents' needs. Every apartment is handicapped ready, and conversion to full ADA standards can be completed in less than a day. Nine units are already fully handicapped accessible. The result is that seniors can return to their home sooner after hospital stays or an illness because the building can accommodate their new needs, whether it be ramps for a walker or handicapped bathroom facilities. Many residents also have home health aides who assist them in living independently. The need for senior housing in the region is great, according to a report by Family of Woodstock.
"The demographics of our community is changing. Ulster County's aging population is increasing and will become a larger percentage of the population. While the county's population is projected to only increase 6 percent from 2000 to 2035, the number of seniors over 60, 65 and 85 years old will increase 72 percent, 79 percent, and over 100 percent, respectively … it is reasonable to question who will take care of seniors in their home if the outward migration of young people continues. Further, in planning needed services, it is important to note that nearly 50 percent of seniors over the age of 75 have a disability."