Going far beyond what's required for affordable housing communities, Birchez Associates is known for its strong commitment to the properties it develops, often adding a number of unique amenities that make residents truly feel special.
In August, the company demonstrated this commitment once more with the grand opening of a craft studio at the Birches at Esopus, an award-winning senior living community in Esopus. The studio, dontated by Birchez founders Steven and Judy Aaron, offers a central place for residents to explore their creativity, as well as an opportunity for a club called "The Busy Bee Crafters" to display its wares onsite to support additional projects and local causes.
"Being a part of the club and sharing our talents with the community gives us a sense of purpose," said Marie Shultis, a founding member of the Crafters. "Steve and Judy [Aaron] have provided us with a gift. Everything they do for their properties has created a way of life."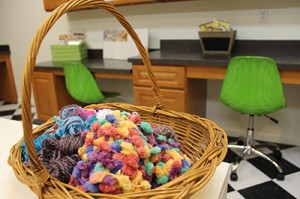 While impressive, the craft studio at the Birches at Esopus is just one example of the company going above and beyond the norm at its properties.
Founded in 2002, Birchez Associates strives to find solutions to the shortage of housing for those who need it most in the Hudson Valley. Its team prides itself on offering high-quality, affordable housing to senior citizens, veterans, and workforce families. The company currently manages five properties throughout the region, and it continues to add value to communities long after they open.
Ever since Birchez Associates launched, the Aarons have emphasized this commitment to excellence, providing a greater overall quality of life for residents. To make this happen, the company adds amenities usually reserved for high-end, gated community-style retirement living, while maintaining the affordability of its units.
In taking this approach, Birchez provide residents with amenities that they would enjoy in their own home. The newly opened craft studio, for example, creates a better sense of community at the Birches at Esopus, serving as a welcoming space that encourages seniors to step out of their apartments and into a more social setting. The property also features a community club area, movie theater, bocce ball court, fitness center, library and game room, where residents can gather and socialize throughout the day.
Birchez has been praised throughout the Hudson Valley for their commitment to excellence at each of their affordable housing properties. In addition to a number of amenities, the company's properties provide aging-in-place opportunities and feature a wide range of green initiatives. As a result of its efforts, hundreds of seniors in our local communities have been able to enjoy more fulfilling, interactive lives.
"Long after the Birches at Esopus project completion, Steve and Judy continue to demonstrate their love and commitment to the seniors in our community," said Esopus Town Supervisor John Coutant.
Birchez Associates manages affordable housing properties in Kingston, Saugerties, Ulster and Esopus.