August 6, 2011: Always There, the area's leading agency for home health, personal care, and adult daycare (www.alwaystherehomecare.org), held its second annual car and motorcycle show today. One of the highlights was a Sherman Tank from World War II which held a position of attention on Ulster Avenue. One of only 20 tanks from World War II extant in the United States today, this Sherman Tank is owned by Bud Walker, a collector of World War II memorabilia from Gardiner, NY. The reason for the scarcity is that we sold or jettisoned our armaments at the end of the war, rather than have the expense of bringing them back in country. This tank was sold to the French government, then Israel, before receiving a Presidential pardon to be allowed to be shipped back to the states.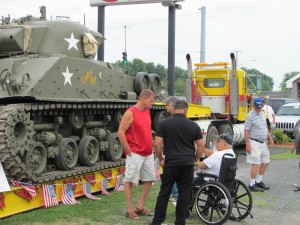 Joe Vanacore, a 91 year old veteran of World War II and a resident of The Birches at Chambers, again held forth to provide living history to the attendees at the event. Many who came to listen to Joe had fathers or grandfathers in the European theater, some assigned to tanks.
A common observation was the relative small size of the quarters for the men who rode in the tanks. A picture of Joe Vanacore in the book "The Liberators" from the time shows a scrawny kid, maybe 110 pounds. Joe quips that he saw a lot of Europe, but most of it through his gun sight.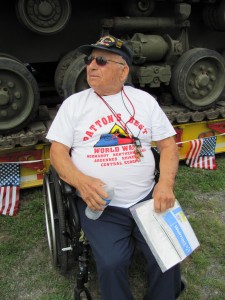 Joe came prepared for the day. He sported his Patton's Best T-  shirt (he was a member of General George Patton's tank corps)  and his cap bore his medals. He brought along pictures from  the War.
Joe's tank in the war had been  specially outfitted with a dozer  blade, like a giant snow plow,  that was mounted to the front of  his tank. Originally the dozer  was designed  to plow through  the mounds of earth that the  troops  encountered during  landings, less the tanks rise up and  expose their underbelly's  which were more vulnerable to  attack. But Joe found himself  using the dozer blade in other  applications as the war  progressed.
He spoke of ramming  through the heavy wooden  doors of what they thought was a  Prisoner of War camp  holding American soldiers in Germany.  The camp appeared abandoned, and most of his unit went after  the German soldiers who had moved out ahead of them. But  Joe stayed at the camp and blasted through.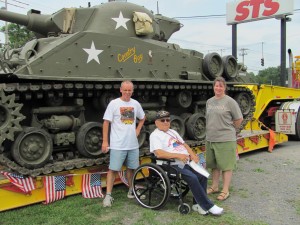 In his gun sight  he saw what appeared to be a large pile of logs. As he got closer, he realized it wasn't a pile of logs, they were bodies. His unit was at a death camp, not a POW camp. The book "The Liberators: America's Witnesses to the Holocaust" by Michael Hirsch, published in 2010, tells of Joe's experiences along with others who liberated the concentration camps.
Joe Vanacore spent three hours at the Always There event, talking to strangers about his experiences. Many reported goose bumps, some had tears in their eyes. It is important that a Veteran like Joe Vanacore be able to tell his or her story of the War as there are so few left to provide this living history. He clocked some 3,000 miles in his tank, yet when he returned stateside  it wasn't a time to tell of the stories. Not then. Many who listened to Joe said their fathers or grandfathers never really spoke of the War. Fortunately, Joe has lived long enough that he can speak of it today. We appreciate him giving of his time to tell others of what he witnessed.
pictures courtesy of Shirley V. Anson