Centenarian William McDonough Honored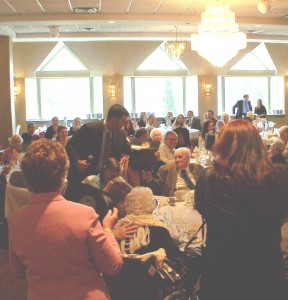 Chambers Court resident William McDonough's 100th birthday won't be until November 23, 2011, but the celebration has already begun. Bill was honored at the Ulster County Centenarian luncheon organized by the Office for the Aging on Friday, May 6th, 2011, held at the Hillside Manor, sponsored in part by Birchez Associates.
County Executive Mike Hein presented Bill and 16 other centenarians with a proclamation; each birthday "boy or girl" also received certificates from State Senator John Bonacic and Assemblyman Kevin Cahill. The photo to the left shows Mike Hein handing Bill his own proclamation.
Ann Cardinale, head of Ulster County's Office for the Aging, remarked on the growing number of centenarians country wide and that this year's recognition represented the largest class ever. The oldest recognized this year is 106 years young.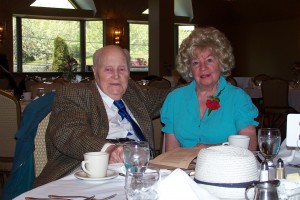 Ms. Cardinale also presented some of the qualities that lead to such longevity including a positive attitude. This certainly characterizes Bill McDonough, a gentleman who continues to live on his own with the assistance of his loyal caretaker Dorothea Schwenk (also a Chambers Court resident and pictured with Bill in the photo to the left). Bill still votes in person; although he said maybe this year he'd consider an absentee ballot he'd prefer to go to the polls.
Birchez Associates salutes Bill and looks forward to celebrating with him throughout his 100th year. Chambers Court, the first of Birchez Associates affordable senior communities, opened in the town of Ulster in 2004/. As with all of the company's communities, it is designed to help seniors live successful, independent lives of quality as they age in place. Adjacent to the company's latest community, The Birches at Chambers, Chambers Court residents now enjoy all the amenities of the latest community, including a fitness studio with trainer who specializes in senior exercise, a media room — a small state of the art theater, library/game room, crafts room and more, all at no cost to the residents.