Healthy Living Tips
Janet Syvertsen from Alzheimer's Association is at The Birches at Esopus today. She is joined by a group of residents for a lunchtime presentation: "Healthy Habits for your brain and body: tips from the latest research. The workshop covered lifestyle habits associated with healthy aging: cognitive activity, exercise, diet & nutrition, and social engagement. Of particular interest was the Mediterranean diet as a few residents shared some menu ideas and diet successes.
Empowering Seniors
Birchez Associates was proud to sponsor the 9th annual Circles for Caring Conference presented by Jewish Family Services of Ulster County. This year's theme: Empowering Seniors. The event was filled with entertaining, informative and engaging sessions, including a welcome by Lawrence Force PhD, Director of Center on Aging and Policy, and Keynote speaker Maria Alverez, executive Director, Statewide Senior Action. Sharon Murray-Cohen, LMSW, Executive Director of JFS, Ulster, explained why the not for profit, non denominational agency chose this year's theme of Empowering Seniors:
"The grey wave is a demographic group of younger seniors to much older seniors as baby boomers come of age and have longer life expectancy. If a person lives a good long life, a third of it will be as a senior. How then does society empower seniors, a diverse group with unique needs and wants? We need to stay strong in raising the profile of senior citizens though awareness and education. The goal of today's conference is to Empower Seniors by placing the senior at the center of discussions and planning for their lives."
"You have to be in it. . ."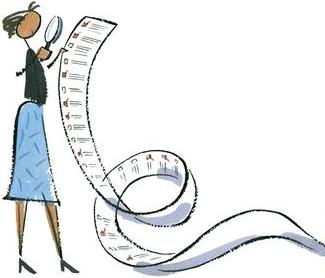 So starts the Lotto ad. And the same is true of our wait lists. If you don't have an application in, you're not on the list. Wait lists can discourage some, but we want to encourage you. When an apartment becomes available, it is available to the next qualified and ready applicant. But apartments are as-signed to particular income bands, and we have disabled and frail elderly preferences to consider as well.
What's this all mean to you? You are on a subsection of the wait list based on your income and whether those ahead of you are ready to move in when the apartment becomes available. We've seen instances where we contact 20 applicants before we find a Resident. Plus should you not be ready when you are called it doesn't affect your standing. You stay on the list.
Fill out an application soon! You can download an application, stop by at our communities (either by appointment or from the brochure display in the lobby) or just call toll free 888-980-0090 and we will mail you an application.
"Grandma, I've Been Arrested."
A Look into Elder Abuse
Perhaps you've heard of phone scammers posing as grandchildren to get money from seniors. But you may be surprised by the variety and pervasiveness of Elder Abuse that can affect our relatives and neighbors.
Types of Elder Abuse include physical, emotional, neglect, financial, sexual and abandonment. Many affected seniors experience more than one type of abuse. Financial exploitation is the highest type of reported abuse.
Did you know that 5 million elder adults are abused, exploited, or neglected each year yet only 1 in 23 cases of Elder Abuse are reported? Why are so few cases reported? Because too often the victim relies on the perpetrator who is a family member and/or is the victim's caregiver.
This summer, Birchez Associates worked with members of the Ulster County Elders Abuse Prevention Task Force to bring educational presentations on Elder Abuse to each of our senior communities. The Task Force, created by County Executive Michael Hein, is designed to raise awareness, increase education and improve prevention of elder abuse.
New York State is the only state that does not mandate the reporting of suspected Elder Abuse as is required for child abuse or abuse of persons with disabilities. While we are not mandated reporters, Birchez encouraged all community staff employees to attend the sessions held for our senior Residents.
"We have seen cases of Elder Abuse and either report these situations directly or help our Residents and family members to report to the proper authority," said Judyann Fitzpatrick, who serves as Manager of Compliance.
"The cases have typically been financial abuse, where a family member gains access to the Resident's bank account and misappropriates funds, or neglect in which a health aide leaves the Resident unattended. The Task Force sessions help our staff to be on the alert for any form of Elder Abuse that could affect our Residents." Thank you to the skilled members of the Task Force, Dena Crane, Toby Krawitz and Colleen Mountford, for sharing their expertise in bringing the educational sessions to our Communities. This outreach was supported by the Office for the Aging and Jewish Family Services.
Don't Hesitate. Call.
Among Ulster County (UC) resources to contact if you suspect Elder Abuse:
UC DSS Adult Protective Services 845-334-5153
UC Crime Victim's Office 845-340-3443
UC Sheriff's Office 845-338-3640 or local police agency
UC District Attorney's Office 845-340-3315
The person's physician or bank
Or contact the Community Manager at the Birchez Community in which you, or your loved one, lives and he or she can direct you to appropriate resources.
Birchez Doubles Underwriting Commitment to Kingston Community Radio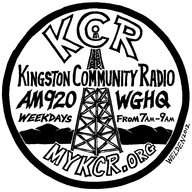 Tony Marmo, cohost of "Feel Good Friday", announced today that longtime Kingston Community Radio supporter Steve Aaron from Birchez Associates, doubled his underwriting support for KCR (920 AM).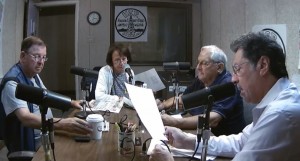 "We thank Steve. He's a generous guy in the community and much of it goes unnoticed. We thank him for his support of KCR and keeping us on the air." Nina Postupack, Rich Mathews and Lew Kirschner joined in thanking Steve Aaron, Founder and Managing Member of Birchez Associates. Birchez is an original underwriter of KCR, going back to 2002. Under the unflagging efforts of the late Walter Maxwell, KCR has served the greater Kingston area for the last 14 years and we want to help keep it going.
If you would like to send a contribution to keep KCR a vibrant community service, you can mail donations to Kingston Community Radio, 82 John St, Kingston, NY 12401 or get on their website MyKCR.org to contribute through the NobleActs button as a guest to set up a one-time or ongoing contribution.
KCR programming airs weekdays between 7am and 9am on WGHQ, AM 920, in Kingston, NY. Volunteer hosts interview guests and take listener telephone calls (at 845-331-9255) to discuss various topics of interest in the community including local, state and national issues. Birchez has been a frequent guest, speaking on senior issues, and we know that many of our Residents are regular listeners of KCR. To see the weekly roster of talented hosts, go to https://mykcr.org/content/kcr-host-schedule
Resident wins top prize!
St. Mary's Benevolent Society held its Annual 20 Week Raffle Party Sunday afternoon at it's hall near the Hudson River beach in Kingston NY. But with the fabulous spread of food and a chance to win over $2,500 in prizes, attendees were happy to be inside for a few hours.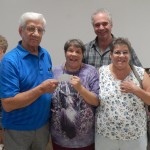 Steve Aaron, Founder & Managing Member of Birchez, treated eighty Residents and staff to the event, which also included entry into the big drawing. And a Resident from Chambers Court won the top prize, shown here being presented with the check and celebrating with her twin sister and Steve Aaron! Among the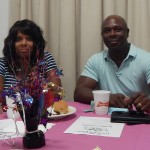 guests, Alderman Tony Davis and his lovely wife Ginger. We found a couple of surprise servers behind the bountiful buffet: Candidate for Surrogate Court Sara McGinty, shown with Birchez' Community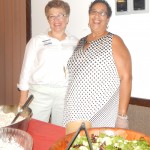 OutreachCoordinator Shirley Whitlock. And of course Birchez' Senior Advocate Alice Tipp held court at her table! All of the senior communities of Birchez were represented, and we left happy and full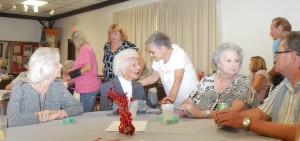 Radio Interview with Steven L. Aaron, Birchez Associates LLC
Dubbed the "Taste of Ulster", Thursday morning's Kingston Community Radio show starts off with a tribute to the late Walter Maxwell. Hosts former Legislature Chairman Fred Wadnola and chef extraordinaire Cynthia Wadnola welcome Steve Aaron, Founder and Managing Member of Birchez Associates LLC.
Listen in on a wide-ranging discussion, featuring the latest Birchez community in Schoharie and what's on the drawing board for proposed affordable senior housing in the Hudson Valley.
Plus, find out how to arrange your own tour of a Birchez community. Despite waiting lists, Steve Aaron encourage seniors to get their applications in to get the process started: "I can't tell you the number of times we go down the list and #1 isn't ready to move, #2 situation has changed, etc. Plus the income band of the apartment dictates who may qualify for a given opening. I've witnessed going down 20 names before we find someone ready to move."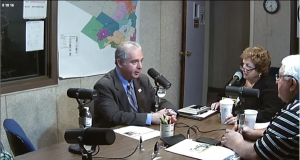 Steve also shares details on green building at Birchez: LEED Platinum at The Birchez at Chambers, early adapter of radiant heat for senior housing at The Birchez at Saugerties. The trio also reviews Birchez' latest newsletter, with a nod to First Responders, and the profiles of The Birches at Saugerties resident Art Baum and the scholarship winner at Birchwood Village. To see the video of the radio show, go to http://www.ustream.tv/recorded/90605545 Click on 8.18.2016 show and once past the opening commercial, advance to 25:00 for the start of today's KCR show. Runs til 1:21:00
Live, Laugh and Learn: Seniors go to College for a Day
Live, Laugh and Learn, put on by the Ulster County Office for the Aging, invites Seniors to a day in a college setting at the SUNY Ulster campus in Kingston NY. Twenty-eight workshops ranged from serious (legal issues, insurance and avoiding scams) to exercise (Silver Sneakers, Tai Chi, Swing Dance, Laugh Yoga and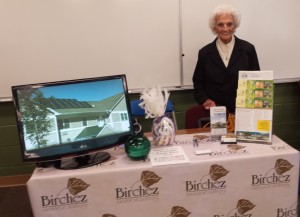 Zumba) to fun hobbies (crafts, gardening). Monkey Joe's provided breakfast treats and MVM-Home supplied nutritious wraps for lunch. Birchez Associates represented with a booth staffed by Senior Advocate Alice Tipp, along with K.J. McIntyre and Megan Donahue of the Marketing team.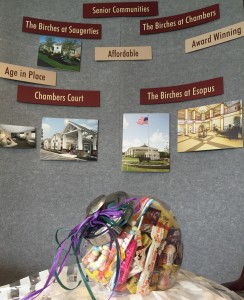 Congratulations to our raffle winner at the Live, Laugh, and Learn senior day event . The winner is Betty Ferracane of Saugerties who won the nostalgic penny-candy jar from Kingston Candy Bar!
Birchez Associates Continues to Strive for Excellence with Opening of New Resident Craft Studio and Gallery
Going far beyond what's required for affordable housing communities, Birchez Associates is known for its strong commitment to the properties it develops, often adding a number of unique amenities that make residents truly feel special.
In August, the company demonstrated this commitment once more with the grand opening of a craft studio at the Birches at Esopus, an award-winning senior living community in Esopus. The studio, dontated by Birchez founders Steven and Judy Aaron, offers a central place for residents to explore their creativity, as well as an opportunity for a club called "The Busy Bee Crafters" to display its wares onsite to support additional projects and local causes.
"Being a part of the club and sharing our talents with the community gives us a sense of purpose," said Marie Shultis, a founding member of the Crafters. "Steve and Judy [Aaron] have provided us with a gift. Everything they do for their properties has created a way of life."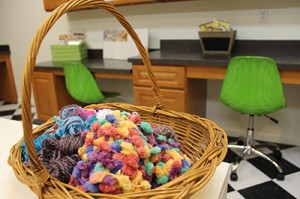 While impressive, the craft studio at the Birches at Esopus is just one example of the company going above and beyond the norm at its properties.
Founded in 2002, Birchez Associates strives to find solutions to the shortage of housing for those who need it most in the Hudson Valley. Its team prides itself on offering high-quality, affordable housing to senior citizens, veterans, and workforce families. The company currently manages five properties throughout the region, and it continues to add value to communities long after they open.
Ever since Birchez Associates launched, the Aarons have emphasized this commitment to excellence, providing a greater overall quality of life for residents. To make this happen, the company adds amenities usually reserved for high-end, gated community-style retirement living, while maintaining the affordability of its units.
In taking this approach, Birchez provide residents with amenities that they would enjoy in their own home. The newly opened craft studio, for example, creates a better sense of community at the Birches at Esopus, serving as a welcoming space that encourages seniors to step out of their apartments and into a more social setting. The property also features a community club area, movie theater, bocce ball court, fitness center, library and game room, where residents can gather and socialize throughout the day.
Birchez has been praised throughout the Hudson Valley for their commitment to excellence at each of their affordable housing properties. In addition to a number of amenities, the company's properties provide aging-in-place opportunities and feature a wide range of green initiatives. As a result of its efforts, hundreds of seniors in our local communities have been able to enjoy more fulfilling, interactive lives.
"Long after the Birches at Esopus project completion, Steve and Judy continue to demonstrate their love and commitment to the seniors in our community," said Esopus Town Supervisor John Coutant.
Birchez Associates manages affordable housing properties in Kingston, Saugerties, Ulster and Esopus.
Birchez Remembers

Birchez Associates remembers, with deepest gratitude, the veterans of foreign war, who, "for love of country, accepted death."