Chambers Court


Birchwood Village


The Birches at Saugerties


The Birches at Esopus

The Birches at Chambers


The Birches at Schoharie (Coming Soon)


The Birches at Fishkill (Proposed 2014)


The Birches at Cooperage (Proposed 2014)
Birchez Associate Profile – Paul Slover
An Employee Everyone Counts On
Birchez Founder Steve Aaron knows everything is always in pristine condition in The Birchez at Chambers community thanks to the efforts of Paul Slover, a 10-year employee who is the facility's porter.
Slover, who lives just two miles from Chambers, is known for his pleasant demeanor, helpful ways and sterling work ethic.
"Paul started out with Chambers Court (the 72-cottage style, single-story apartment community) when it was built, and later at Birches at Chambers (the 66-unit complex adjacent to Chambers Court)," said JudyAnn Fitzpatrick, Rondout Property Management's Compliance Manager. Along with resident caretaker Jerry Coschigano, Paul is now responsible for the maintenance of 138 units and cleaning of the common areas.
Residents rely on Slover to shovel and plow snow, cut grass, polish furniture in common areas and handle many other duties to keep Birches at Chambers spotless.
"I'm a 'Jack of all trades,'" Slover said. "I always try to help everyone I can. There are a lot of nice people here and they're all very friendly."
Fitzpatrick acknowledged that, too. "Mr. Aaron knows when he wants to show off the place, he can count on Paul because Paul keeps everything up to Birchez' high standards" she said. "And the residents get a chance to thank him when he stops by 'Alice's tea' (offered weekly by Birchez Senior Advocate Alice Tipp)."
Slover has been married for 22 years to Debra Slover and enjoys the outdoors and traveling. He knows that taking a few minutes to help goes a long way to making people feel comfortable and important. Most noteworthy, he's demonstrated a special sensitivity to the senior residents he's served for ten years.
Birchez Associates' Salute to First Responders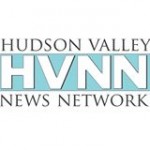 Posted June 15, 2016 by Hudson Valley News Network
The senior residents of The Birches at Chambers and Chambers Court hosted a brunch to show appreciation for the dedicated First Responders who care for their communities.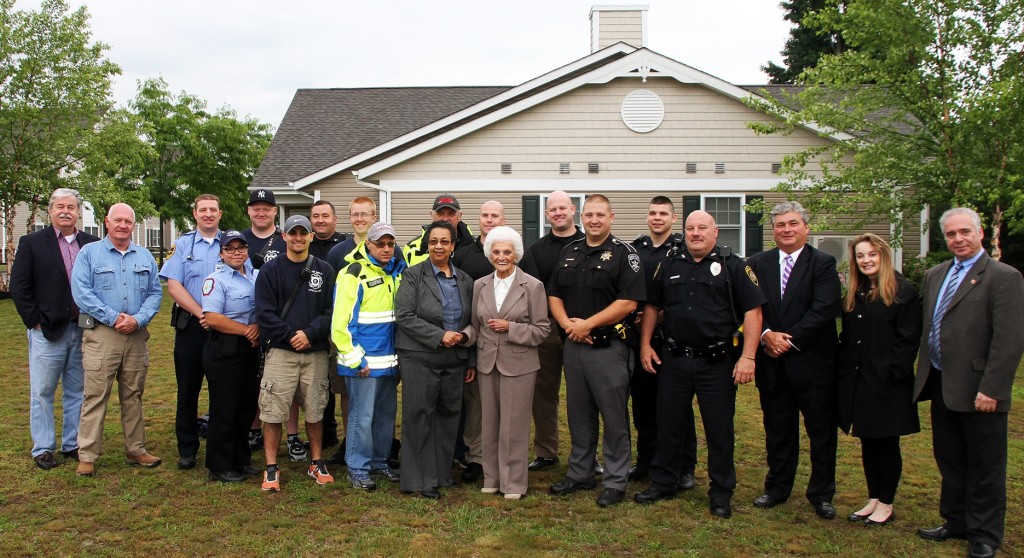 First Responders Celebrated: Some of the First Responders honored by the residents of The Birches at Chambers and Chambers Court, Town of Ulster, gather for an official pose. Joining them are guests County Legislator Peter Loughran, Town of Ulster Board Member John Morrow, Community Outreach Coordinator Reverend Shirley Whitlock, Senior Advocate (and former Legislator) Alice Tipp, Vice Chairman of the Ulster County Legislature James Maloney, Judy Aaron, and Steve Aaron, Founder and Managing Director of Birchez Associates.
Town of ULSTER – The senior residents of The Birches of Chambers and Chambers Court hosted a brunch this past Saturday to show appreciation for the dedicated First Responders who care for their communities. Honorees included members of the Ulster County Sheriff's Office, Town of Ulster Police Department, Ulster Hose Fire Department #5 and Mobile Life.
"No matter how many times we sponsor an Appreciation Brunch, the excitement is always there and our gratitude to these dedicated men and woman never ceases," said Birchez Founder and Managing Partner, Steve Aaron. "The professional and friendly manner in which they serve our seniors residents gives us great comfort."
Mary Nielsen, a resident at The Birches of Chambers since it opened in 2010, summed up the gratitude evident at the event: "Not only do I feel a sense of security and comfort, but so does my family, knowing that if something should happen that help is at hand within minutes. I can live independently, but feel a sense of connectedness."
James Maloney, Vice Chairman of the Ulster County Legislature, presented Pride of Ulster County awards to the First Responders to complement the certificates of appreciation given by the residents. In accepting one of the certificates of appreciation, Ulster County Deputy Sheriff Brandon Schiller said: "It is my honor to be here today. The Sheriff's Office has met with residents over the years in providing programs on self-defense, scams targeted at our seniors, and general safety, as have the Town of Ulster Police. The good news is we are seldom called! So my thanks go to the residents and staff today."
Senior Advocate for the Birches Communities and former Ulster County legislator Alice Tipp offered her own experience as an example of the responsiveness of First Responders. "I took a silly fall at one of my weekly resident teas. You'd think I would be more coordinated at my age. Within minutes, Mobile Life was at my side to transport me to the hospital." Alice was back on her post after care and, at age 93, continues her advocacy for senior residents.
All senior resident apartments at the four affordable Birches senior communities in the County of Ulster are equipped with call alert units in bedrooms and bathrooms that connect directly to local emergency services. Ulster Hose 2nd Assistant Chief John Kelly said, "Yes there have been some false alarms when a call unit is pulled in error, but that is a small inconvenience when measured against the alert speed of these units when there is a real emergency. We encourage the residents to use them, not to think 'well maybe the pain will go away'!"
In addition to the emergency call units, Birchez Associates has installed defibrillator stations (AED) at the properties and has provided staff training, as a proactive measure until the first responders arrive.
ABOUT BIRCHEZ ASSOCIATES, LLC.
Birchez Associates, LLC, was founded by Steven L. Aaron in 2002 to develop and construct quality affordable housing for senior citizens, frail elderly, working families, veterans and single parents. Birchez Associates, LLC has since sponsored hundreds of affordable housing units in the Hudson Valley, generating over $60 million of development and construction in the region with well over $100 million coming in the near future.
Birchez salutes Town of Ulster first responders
Source: MidHudsonNews.com 6/14/16                        TOWN OF ULSTER – Senior residents of The Birches of Chambers and Chambers Court this past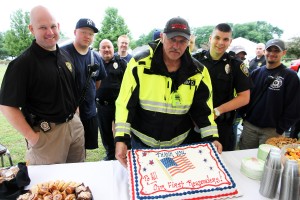 weekend hosted area first responders as a "thank you" for their continued service.
"No matter how many times we sponsor an appreciation brunch, the excitement is always there and our gratitutde to these dedicated men and women never ceases,: said Bichez founder and managing partner Steve Aaron. "The professional and friendly manner in which they serve our senior residents gives us great comfort."
"Not only do I feel a sense of security and comfort, but so does my family, knowing that if something should happen that help is at hand within minutes," said Mary Nielson, a resident at The Birches of Chambers since it opened in 2010. "I can live independently, but feel a sense of connectedness."
Ulster County Legislator James Maloney presented Pride of Ulster awards to the first responders.
Honorees included members of the Ulster County Sheriff's Office, Town of Ulster Police, Ulster Hose Fire Department #5 and Mobile Life Support Ambulance Service.
In addition to emergency call units, Birchez Associates has installed defibrillator stations at the properties and has provided staff training to assist until first responders arrive during emergencies.
Birchez Remembers

Birchez Associates remembers, with deepest gratitude, the veterans of foreign war, who, "for love of country, accepted death."
Valentines from loving hands
Seniors give to other Seniors
For the last several weeks, a dedicated group of crafters at The Birches at Esopus have handcrafted some two hundred Valentine's Day cards. And where have they directed Cupid's arrows? The Golden Hill Health Care Center, Ulster County's nursing home, located off the Boulevard in Kingston. Started 65 years ago, Golden Hill provides both rehabilitation services and long-term health care.
A range of materials were creatively incorporated in these one of kind cards. Ribbons, jewels, doilies, wallpaper, whatever these clever crafters had at hand. Designs varied from whimsical to modern, something for everyone's tastes.
According to Crafts Club member Marie Shultis, this is the third year the Esopus seniors have created Valentine's Day cards for the seniors at Golden Hill. "If we had one thing to do over, we would have started earlier," she said. But with a new target of 200 cards this year, their highest to date, they made it with a few days to spare.

On Friday, February 10th, a contingent of the crafters met with a few residents of Golden Hill to present the cards. The intent is that the cards could be used to brighten the resident's room or to give to a loved one.
As The Birches at Esopus group chatted with the residents, there was some sharing of techniques and materials used. Marie Shultis talked about some exacting measurements used in various crafts to make sure the results look as best as possible. Looking at the results, one might even say professional!
(More text below photos.)
The Crafts Clubs keep busy year 'round at both The Birches at Esopus and The Birches at Chambers. Chambers has had two annual collaborative events knitting hats for children with cancer.
At Esopus, the crafts room has shown off holiday gifts ranging from cards, kissing balls, knitted scarves and hats, and at this time of year, lots of red cards.
Every now and then the public gets a chance to check out the crafts at The Birches at Esopus. Last year, during the Town of Esopus Fall Festival, the tour bus made a stop at this senior affordable community so interested purchasers could browse the Crafts Club's creations. We'll let you know when the seniors have newly created crafts to share.
Seniors' New Year's Eve Ball

Kingston, December 31, 2011:
Thanks to the generosity of community supporters, Kingston NY area seniors danced the night away waiting for the 2012 ball to drop. The annual  New Year's Eve event was held at The Hillside Manor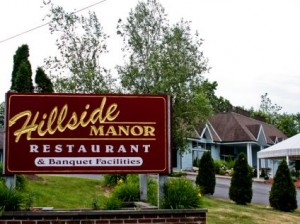 , a leading fine dining and events facility. Host Denni Demosthenes managed to get all guests to the table despite the many attendees who arrived up to an hour early! Over 350 seniors attended and enjoyed a full dinner and dessert, dancing to both live and DJ'd music, a champagne toast and, of course, New Year's hats and noisemakers. The music makers mixed it up with the predictable old favorites and many contemporary hits that got everyone on the floor rocking.
For the third year, the main sponsors were Birchez Associates, the Bruderhof, and the Demonthenes family which owns The Hillside Manor. Other local purveyors also helped out. For example, Adams Fair Acres Farms donated beautifully prepared (and delicious) cookie platters for each table, Deisings Bakery provided the  dinner rolls.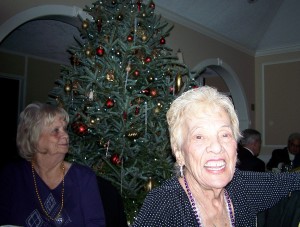 The smiles of the seniors were evident at the festively set tables in both the full rear ballroom and the restaurants front function room. Not to be outdone by the decor, many of the ladies were "dressed to the nines." As one quipped, "Where else am I going to get the opportunity to get so dressed up. I love it!" Join the festivities via video (only a minute and a half in length) in which Birchez principals Steve and Judy Aaron welcome one and all.
Several political leaders stopped by to lend their support, most notably Congressman Maurice Hinchey who greeted many by name. Outgoing legislator Walter Frey and encumbent councilman Jimmy Bruno traveled from Saugerties. Majority Leader for the Kingston Common Council Tom Hoffay was in early attendance. Newly elected Alderperson Deb Brown, 9th ward Kingston, shared her thoughts on the video.
Seniors who attended and who would like to comment on the evening can contact us at birchezassociates@gmail.com. We'd love to share your thoughts as we enter 2012!
Chambers Elementary Students Serenade Neighboring Seniors
By KYLE WIND, Freeman staff, December 20, 2011
TOWN OF ULSTER — The Chambers Elementary School chorus on Monday spread some holiday cheer to its little corner of the world when students caroled and performed songs from their latest concert for residents of The Birches at Chambers and the Chambers Court senior communities.
Traditional holiday hymns 51 fourth- and fifth-grade students performed for their neighbors at the apartment complex, which is a short walk from the school, included "Joy to the World," "The First Noel," "Silent Night," and "Hark the Herald Angels Sing."
"It was wonderful," said 80-year-old Fran Gillis, one of the 25 residents who watched the performance. "It means very much to me, and the kids are really great." (To see the accompanying video, click here.
Chorus Director Mona Stovall said the carolling is part of a longstanding Chambers tradition she started in the late 1970s or early 1980s. Students have caroled in different places around town over the years ranging from the Golden Hill Health Care Center to Barnes & Noble.
Fifth-grader Kiera Gallo, who was excited for the chance to perform her solo in "The Holly and the Ivy," described the visit as "a chance to spread cheer through The Birches and Chambers Court."
"The children get great joy out of it, and so do I," said Stovall, who said she began the tradition because she believes in community service.
Stovall said the experience often exposes students to elderly people with disabilities, and some of her former students went on to become special education teachers, perhaps being put on that path as the result of their early carolling rounds.
Holiday Party Has Seniors Rocking to the Beat
Holidays can be lonely for seniors living on their own. But at the Birchez Associates communities, you'll find many ways to celebrate the holidays. In addition to cosponsoring the Kingston area senior New Year's Eve party (to watch video, click here), Birchez owners Steve and Judy Aaron also hosted a holiday party for all their senior residents and staff.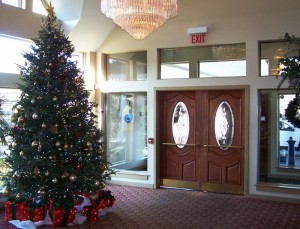 At The Hillside Manor, a popular dining and events destination in Kingston, Birchez took over . A decorated Christmas tree welcomed guests in the foyer, with holiday decoration throughout. Cocktails and hors d'oeuvres started the event in the front ballroom. Then festivities moved to the full back ballroom (complete with its own Christmas tree and Menorah) for dinner and dancing.
Special guests included Congressman Maurice Hinchey who spun at least one senior on the dancefloor. County Treasurer Eliott Auerbach and his lovely wife Judy, County Clerk Nina Postupak, County Legislators Peter Loughran, Hector Rodriguez and Walter Frey, as well as Town of Esopus Council members Kyle Barnett, Gloria VanVliet and Donna McAuley also joined the party.
The band leader of "Outside the Box" thought he was doing the right thing when he mentioned a 92 year old resident was on the dance floor, only to have other dancers raise their hands to say "I'm in my nineties too!"  From the salad course through desert, the dance floor was in motion. Whether a classic melody or a cover of a contemporary song from Lady GaGa or Adele, guests were up and dancing. Chambers Court Resident and Centenarian Bill McDonough didn't dance but had a front row table to watch others do so.
Pointsetta centerpieces obtained through the local Boys & Girls Club were given to those residents who found a lucky penny underneath their place setting. In addition to peach melba for desert, plates of cookies from local Deising's Bakery provided some extra energy for seniors to keep the dance floor full.
And for residents who no longer drive, A.N.N. Transportation provided a handicapped bus and van to get everyone to the event. After four hours of partying, there was even some grumbling when the announcement was made that the bus and van were ready for loading to take residents home. "Already?" some were heard to exclaim!
For additional pictures, see Holiday Party album on Facebook
Going Strong at 100
Recent projections on seniors living longer are certainly borne out at The Birches communities. Just last week members of the Residents Club for The Birches at Chambers and Chambers Court met to fete William McDonough on the occasion of his 100th birthday.
Bill was born November 23, 1911, and he considers himself "just an ordinary guy." Bill didn't know why people would make such a fuss. So he was surprised at the turnout that included residents, owners Steve and Judy Aaron, and staff of Birchez Associates and Rondout Properties. Or that we would want to interview him.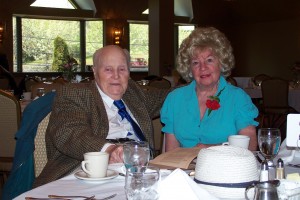 Earlier this year, Bill was honored as a centenarian by the Ulster County Office for the Aging. On the left, pictured before the luncheon began at the Hillside Manor, is Bill with his loyal helper Dorothea Schwenk, a resident of Chambers Court since 2004.
Since the County's celebration, it's been about six months of birthday acknowledgments. He brought one to the party this week, a birthday card from the President and First Lady (click on the photo so you can read it!).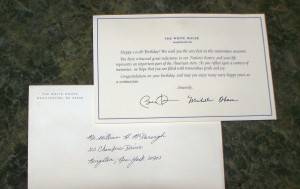 This was in addition to the number of declarations and proclamations from many local politicians and dignitaries including State Senator John Bonacic, Assemblymember Kevin Cahill, and Ulster County Executive Mike Hein.
Bill lived in the area for 25 years before moving to Chambers Court early in 2008. He values living in a safe senior community. Bill says he's found a really nice place and values the new friends he's made.
Bill served as a conductor for the New York Central Railroad for many years. His "route" was Grand Central to Buffalo on the 20th Century Limited. At the time it was the fastest train out there. Today Bill wonders why people want to go much faster. "When I think of some of these tiny cars speeding down the highway at 70 miles per hour, I don't think it's safe. Why is everyone in such a hurry?"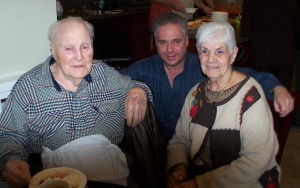 Bill is, at the moment, the only centenarian living at one of the Birches Communities but there are a number of residents close behind. Currently there are 43 residents aged 85 and over, with 14 of those 90 or over. In the picture to the right taken at the Residents' celebration, Bill is pictured with Tess Glassman, a Birches at Chambers resident who turned 90 on November 20th. Between them is Steve Aaron, founder and managing member of Birchez Associates which developed and manages four senior communities in Ulster County.
Steve Aaron spoke about aging in place in independent living communities. "Bill's a great example of why I believe so in the aging-in-place concept. It's a better quality of life and much more economical for society than nursing homes or alternate level of care facilities." Most units at The Birches Communities are handicapped ready if not fully ADA handicapped accessible. Home care and personal care aides from a number of local agencies can help provide assistance with daily living tasks which allows many seniors to spend their time "at home."
Steve went on to say, "Annecdotally, we're hearing that our residents, when they do have to be hospitalized or spend time in a rehab setting, are coming home sooner because the apartments' features encourage that. They don't have to wait for a ramp to be built or a bedroom created on the first floor or even the necessity to move from their home."
– K.J. McIntyre, Director of Marketing, Birchez Associates
Doing 90
November 29, 2011:  The Report 90+ in the United States: 2006-2008 was issued this month by the American Consumer Survey (ACS), which is sponsored by the US Census Bureau. The ACS gathers data for the Census Bureau on an annual basis; this data is utilized by communities in allocating investments and services. Unfortunately, crunching the data and reformatting it into readable, intelligible reports takes time. Hence the appearance of three-year lag; in reality the 2010 census is cited in some instances.
Significant in the findings is that 90+ is the new 85+. Many demographic reports analyze age groupings such as 55 to 64, 65 to 74, and then 85+. This assumes a commonality in the group and/or smaller numbers that may not be reliable statistically. Yet the reality shown in this  report is that there are some sharp distinctions, even in the five year segment breakdowns of 85 to 89, 90 to 94, and 95+. Certainly as our seniors of today age healthier than their predecessors this will morph expectations for these segments.
This segment is growing both in size and proportion of the older population. Between 1980 and 2010, the people aged 90 and over almost tripled to 1.9 million. Projections are that the 90+ segment will more than quadruple by 2050, in comparison to a doubling of the population 65 to 89.
New York currently ranks third (after California and Florida) in the sheer number of 90+ residents, but it's not even in the top ten when comparing the percentage of 90+ versus the 65+ populations by state.
The report details racial and educational statistics, and considering the report covers those born in 1918, this is an educated group. Perhaps not a surprise that women aged 90+ outnumber 90+ men nearly 3 to 1.
The economic numbers are certainly of interest in the affordable housing field:
Social Security represents almost half of total personal income for the 90+ (47.9%)
The poverty rate for the 90+ is higher than that for those aged 65-89
16.5% of women and 9.6% of men aged 90 and older were in poverty 2006-2008
When one considers this in the perspective that many baby boomers are ill prepared for retirement, and certainly for living some 20 years longer than expected, the economic forecast for this segment is of concern. Further compounding this is that the report addresses the 2006-2008 period, during which the source of 29.8% of 90+ income was  "other" (which would include directly held investments), and 18.3% came from retirement accounts. Given the financial upheaval from the end of that period to the present would indicate that the 2011-2012 period would mean the 90+ segment might well be relying on Social Security for more than half of their income.
Difficulty doing errands alone and mobility-related limitations are the two most common types of disability for the 90+ (disability in this context is defined as a substantial limitation in a major life activity). Appropriate transportation modalities, proximity of services and handicapped accessibility will be key features of senior housing to come.
Aging in place will play an important role for the 90+ segment. While the percent of people with disabilities increases sharply with aging (see below), the nature of the disability(ies) may determine whether the individual needs an institutionalized setting or not. Certainly advances in senior housing facilities and services offer alternatives to more expensive nursing homes or even alternative level of care  facilities.
Ages 85-89      80.4% report one or more disabilities
Ages 90-94      82.7%
Ages 95+          91.2
To see the full American Community Survey Report, 90+ in the United States: 2006-2008, authored by Wan He and Mark N. Munchrath,  click here.
- K.J. McIntyre