"You have to be in it. . ."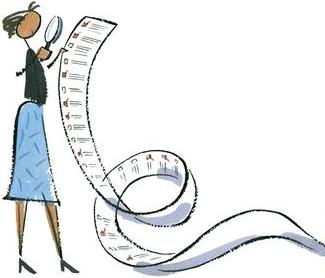 So starts the Lotto ad. And the same is true of our wait lists. If you don't have an application in, you're not on the list. Wait lists can discourage some, but we want to encourage you. When an apartment becomes available, it is available to the next qualified and ready applicant. But apartments are as-signed to particular income bands, and we have disabled and frail elderly preferences to consider as well.
What's this all mean to you? You are on a subsection of the wait list based on your income and whether those ahead of you are ready to move in when the apartment becomes available. We've seen instances where we contact 20 applicants before we find a Resident. Plus should you not be ready when you are called it doesn't affect your standing. You stay on the list.
Fill out an application soon! You can download an application, stop by at our communities (either by appointment or from the brochure display in the lobby) or just call toll free 888-980-0090 and we will mail you an application.
Welcome to the Team
We are pleased to welcome new members to our Birchez Associates Marketing group and Rondout Property Management teams.
Megan Donahue, a recent SUNY New Paltz grad, brings more than book knowledge to her job as Marketing Assistant for Birchez Associates. Megan served semester internships at both the County Executive's office and Benedictine Health Foundation. Plus this Saugerties resident worked weekends and summers throughout college. Despite her extracurricular activities, Megan managed to attain the Dean's List.
Theresa Walsh Miranda began her housing career in 2002 and joins us as an experienced property manager. Theresa is now the Community Manager at both Chambers Court and The Birches at Saugerties. Her professional accreditation includes Low Income Housing Tax Credit Certification, Accredited Residential Management, IREM Certification and Assisted Housing Management. Theresa is a graduate of the Ulster County Leadership Institute, and is a certified Health & Wellness Coach.
Mary Rauchet is the new Community Manager at Birchwood Village, our workforce family community sited in Kingston. Mary has extensive property management experience, having served as manager of 150- and 256-unit properties. She also worked for seven years as the financial manager for the Newburgh Housing Authority. Mary is a Certified Occupancy Specialist as well as a certified New York State Notary Public.
Birchez Doubles Underwriting Commitment to Kingston Community Radio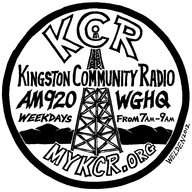 Tony Marmo, cohost of "Feel Good Friday", announced today that longtime Kingston Community Radio supporter Steve Aaron from Birchez Associates, doubled his underwriting support for KCR (920 AM).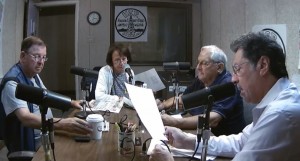 "We thank Steve. He's a generous guy in the community and much of it goes unnoticed. We thank him for his support of KCR and keeping us on the air." Nina Postupack, Rich Mathews and Lew Kirschner joined in thanking Steve Aaron, Founder and Managing Member of Birchez Associates. Birchez is an original underwriter of KCR, going back to 2002. Under the unflagging efforts of the late Walter Maxwell, KCR has served the greater Kingston area for the last 14 years and we want to help keep it going.
If you would like to send a contribution to keep KCR a vibrant community service, you can mail donations to Kingston Community Radio, 82 John St, Kingston, NY 12401 or get on their website MyKCR.org to contribute through the NobleActs button as a guest to set up a one-time or ongoing contribution.
KCR programming airs weekdays between 7am and 9am on WGHQ, AM 920, in Kingston, NY. Volunteer hosts interview guests and take listener telephone calls (at 845-331-9255) to discuss various topics of interest in the community including local, state and national issues. Birchez has been a frequent guest, speaking on senior issues, and we know that many of our Residents are regular listeners of KCR. To see the weekly roster of talented hosts, go to https://mykcr.org/content/kcr-host-schedule
Radio Interview with Steven L. Aaron, Birchez Associates LLC
Dubbed the "Taste of Ulster", Thursday morning's Kingston Community Radio show starts off with a tribute to the late Walter Maxwell. Hosts former Legislature Chairman Fred Wadnola and chef extraordinaire Cynthia Wadnola welcome Steve Aaron, Founder and Managing Member of Birchez Associates LLC.
Listen in on a wide-ranging discussion, featuring the latest Birchez community in Schoharie and what's on the drawing board for proposed affordable senior housing in the Hudson Valley.
Plus, find out how to arrange your own tour of a Birchez community. Despite waiting lists, Steve Aaron encourage seniors to get their applications in to get the process started: "I can't tell you the number of times we go down the list and #1 isn't ready to move, #2 situation has changed, etc. Plus the income band of the apartment dictates who may qualify for a given opening. I've witnessed going down 20 names before we find someone ready to move."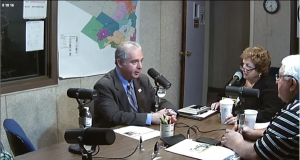 Steve also shares details on green building at Birchez: LEED Platinum at The Birchez at Chambers, early adapter of radiant heat for senior housing at The Birchez at Saugerties. The trio also reviews Birchez' latest newsletter, with a nod to First Responders, and the profiles of The Birches at Saugerties resident Art Baum and the scholarship winner at Birchwood Village. To see the video of the radio show, go to http://www.ustream.tv/recorded/90605545 Click on 8.18.2016 show and once past the opening commercial, advance to 25:00 for the start of today's KCR show. Runs til 1:21:00
Birchez Supports Birchwood Village Resident with College Scholarship
Birchez Associates LLC Founder Steven L. Aaron presented a Birchwood Village Scholarship Award to Birchwood Village resident Angelina Lyman to support her efforts to attend Hudson Valley Community College.
Lyman received her associate's degree in science from Ulster County Community College (UCCC) in 2015. In the fall, she began attending Hudson Valley Community College in Troy where she is studying mortuary science to receive a second associate's degree. Her goal is to graduate in three semesters and become a New York State-licensed funeral director. The scholarship award – given to Birchwood Village residents furthering their education – was for $3,600. Birchez has since given Lyman additional money for books and other school-related expenses.
"Each year Birchez Associates supports many worthy community causes and events in the communities that we serve, but this year it is extra special to support one of our residents and a member of our family that has been so courageous," Aaron said during the presentation. "We are humbled and honored to award the Birchwood Village Scholarship to Birchwood Village resident Angelina Lyman. She is a shining example of a student who persevered through the toughest of situations."
Lyman had been attending UCCC and was just months away from completing her associate's degree when her 3-year-old daughter, Annabella, was diagnosed with a rare, aggressive form of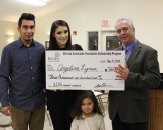 pediatric cancer – stage 4 neuroblastoma. "I had to make the heartbreaking decision to withdraw from my classes and the college to fight with everything I had in me to save my daughter," she said. After eight rounds of chemotherapy and three surgeries, Annabella was in remission. Once Annabella attained a year's remission, Lyman returned to Ulster County Community College.
Lyman made the dean's list and graduated with a 3.47 grade-point average from UCCC. She now commutes to Hudson Valley Community College.
"Becoming a mortician/funeral director has been a dream of mine since I was a child," Lyman said. "This scholarship allows me to continue my education while relieving a ton of financial stress. I can't thank Birchez Associates and Steve and Judy Aaron enough for their generosity to both me and my family.
For information on the Birchez Foundation, go to www.Birchez.com.
Birchwood Village: Take the Video Tour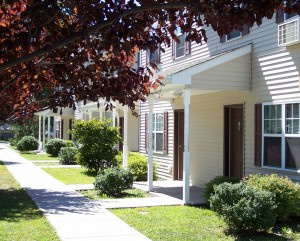 Birchwood Village recently invited potential residents to an Open House. If you were unable to make it, you can take a brief tour here.
Property Manager, Patrice Steigler, welcomes you and shows off not only a three bedroom apartment, but also some of the amenities: community room and laundry room among them.
Opened in 2006, Birchwood Village is well maintained and during the  tour some potential residents remarked that the two- and three-bedroom units looked brand new! In addition to full time maintenance on site, 24/7 emergency maintenance is also provided. Heat and hot water are included in the state-capped rents.
Centrally located near the malls, major employers, schools and churches, Birchwood Village also offers a bus stop for CitiBus so residents can get around the City or connect to UCAT (Ulster County Area Transit).
If you are a Veteran, make sure to check out our Veteran Preference Policy. In addition to the townhouse, 2 story style, there are also some first floor units for handicapped accessibility.
For more information, please call 845-331-8232 for your personal tour. And you may download the preliminary application on this site (go to the Contact tab). Patrice looks forward to hearing from you.
Congressman Hinchey Talks about Vets at Birchwood Village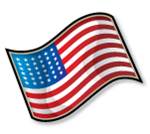 Kingston, NY 2.20.12 Today Congressman Maurice Hinchey (D, NY-22) spoke about the importance of affordable housing for Veterans. At Birchwood Village, the Congressman joined Senior Property Manager Judy Fitzpatrick in viewing apartments during the Presidents' Day Open House held at 161 Colonial Drive, Kingston, NY. (click here for video)
About a quarter of attendees identified as a Veteran and they enjoyed the yellow ribbons – along with red, white and blue bunting – that adorned the apartments being shown to potential applicants.
Birchwood Village offers 2- and 3-bedroom apartments in this workforce housing community. Amenities include a
community room with computer access, laundry and trash rooms conveniently located throughout the complex, plus heat and hot water are included in the rents, which are set by the state to keep them affordable.
For more information, call 845-331-8232. Preliminary applications may be downloaded at www.BirchwoodVillageKingston.com at the contact us tab.
Saluting Vets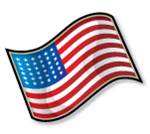 Seems like there are fewer parades these days for returning Veterans. Veterans return home to rising prices and fewer jobs. At least some affordable housing communities, in association with NYS agency Homes & Community Renewal, try to recognize the sacrifices made by our armed services in creating Veteran preferences. "The very least Vets deserve is clean, safe and affordable housing," said Patrice Steigler, full-time property manager at Birchwood Village in Kingston, NY. Steigler explained that a Presidents' Day Open House was a perfect vehicle for letting vets know that affordable housing does exist. New York State is particularly challenged in that it has one of the highest Veteran populations per capita, and the Hudson Valley houses half that number.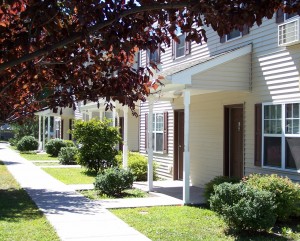 Birchwood Village is designed for working families, the economy's backbone. Earning less than the area's median income, these families generally find housing costs eating up so much of their budget that other basic expenses, like food and health care suffer. With rents set by NYS each year, Birchwood Village includes heat and hot water for the 2- and 3-bedroom apartments, so a family can make ends meet.
Steigler said the complex also offers a limited number of "flats," handicapped accessible units. "We truly create a community here, with 80 apartments and amenities, a great location, and bus service right in front," she said. If you are unable to attend the open house, just call 845-331-8232 to make an appointment for your own tour and application information.
Spring Expo shows off Birchez Associates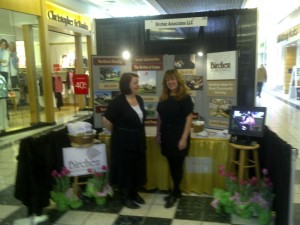 This year's Lions' Club Expo at the Hudson Valley Mall featured a new participant: Birchez Associates. Shown to the left with our booth are Teri Sola, Property Management Compliance, and Cheryl Meehan, Property Manager at both The Birches at Esopus and The Birches at Saugerties. Throughout the two day event we were also represented by Judy Fitzpatrick, Senior Property Manager, Paul Watzka, Director of Community Affairs, and K.J. McIntyre, Director of Marketing.
Last but certainly not least, the one and only Alice Tipp, Senior Advocate for The Birches Communities, held court for several hours on Sunday. After her 30 years in the legislature and over five years with us, Alice is known far and wide. One couple who stopped by, married for over 50 years seemed to take almost more pride in their voting record for Alice from the beginning of her career in public service.
One unexpected treat for the staff was the number of residents who stopped by, frequently showing off photos or stopping to point out parts of the videos being shown to their friends and family. We hope that many of our visitors will in fact submit applications so that we might add them to the wait lists. Sooner you are on the list, the sooner a spot might open with your name on it! If you didn't make it to the mall, stop by one of our communities (call first to assure a tour and application will be ready for you). Just click on the communities tab or one of the community photos on the home page for contact information.
K.J. McIntyre, Director of Marketing, Birchez Associates, kjmcintyre@birchez.com
American dreaming
HVBiz, 2.28.08 by Lynn Woods:
Getting more affordable housing isn't easy. With high rents and the median price of a home in the counties of Ulster and Dutchess well beyond the means of lower-income people, the demand is great. Competition for grants and low-cost financing has increased dramatically, making it more difficult for both nonprofit and private developers to qualify for the subsidies.
"The financing is more difficult to get as more communities are recognizing they have a significant need for senior affordable housing," said Steve Aaron, president of Birchez Associates, which built, owns and manages three affordable rental developments in Ulster County, two of which are for seniors. Aaron just broke ground on a fourth senior affordable rental development, located in Esopus.
In the town of Ulster, Aaron completed a 72-unit rental complex four years ago, which is rented out to seniors with 30 percent to 60 percent of median income. He has just gotten approval from the town to build an additional 67 units at the site. He also has a similar 60-unit senior rental development in Saugerties. A third project, located in Kingston, consists of 80 units targeted to families with 40 to 60 percent of median income.
Aaron was invited by the town of Esopus to build an affordable senior housing development. After two years of looking, Aaron and the town located an appropriate site, which has easy access to Route 9W. Its proximity to Ulster BOCES is another plus: Aaron said the facility's programs for seniors will be a valuable amenity to future residents. A new sidewalk will enable pedestrians to walk to the Town Hall. Aaron has made arrangements to have both the county and the city of Kingston extend their bus services to the area.
Aaron said the rents for the two-bedroom and one-bedroom units will likely range from $500 to $700. His target market is people age 62 or over who have 50 to 60 percent of the median income. He expected the project to be completed by the end of the year.
The program was approved by the town Planning Board despite opposition from some residents on nearby River Road. "They thought we were building low-income housing, like in the Bronx," Aaron said. But after many meetings with the public, "we reduced the amount of dissenters to a handful of people."
Aaron said he received federal tax credits through the New York State Division of Housing & Community Renewal (DHCR) for his three previous affordable rental developments. But he was unsuccessful in qualifying for the $20 million Esopus project. Instead, he is receiving $11.8 million in tax-free bonds through the New York State Housing Finance Agency. The tax credit will amount to 4 percent (compared to 9 percent through the DHCR). He is also putting in several million dollars of his own money, he said.
The federal tax credit, which was created under the Tax Reform Act of 1986, is the primary incentive offered to developers for building low-income rental housing. This year, the federal government has budgeted $35.2 billion for the credit. The credit is divvied out to the states, which administer the money through various agencies, such as the DHCR. The credits are claimed in equal amounts over ten years.