Keeping Affordable Housing Affordable
Senior affordable housing is a major benefit to retirees living on fixed incomes, but the public-private partnerships required to sustain such housing often bring about vigorous discussions over property taxes, specifically payments-in-lieu-of-taxes. In this Point of View, Steve Aaron sets out the steps that led to Birchez' request to amend the original PILOT agreement.
The following article appears in the Saugerties Times, Oct. 16, 2012. (Reprinted with permission)
Point of View: Agreement will keep Birches at Saugerties rents down
A lot has been said recently about The Birches at Saugerties' amended payment-in-lieu-of-taxes agreement [PILOT]. The issue can be easily misunderstood. I'd like to walk you through it to put the matter in perspective. First, The Birches at Saugerties exists to meet the affordable-housing needs of an important segment of our local residents — seniors on fixed incomes.
Ask anyone who lives in this or any other Birchez community and you'll immediately sense the pride and security they feel in having award-winning housing that's clean, safe and affordable in their home community.
Second, it's vital to these residents and to the entire town of Saugerties that we keep the rents affordable. (more…)
The Birches at Saugerties' Memorial Day Party
Residents of the Birches at Saugerties
were all smiles on Friday  

as they enjoyed a barbeque feast,
prepared by Paul Watzka and Al Teetsel,
in honor of Memorial Day. 
Birchez Remembers

Birchez Associates remembers, with deepest gratitude, the veterans of foreign war, who, "for love of country, accepted death."
Seniors' New Year's Eve Ball

Kingston, December 31, 2011:
Thanks to the generosity of community supporters, Kingston NY area seniors danced the night away waiting for the 2012 ball to drop. The annual  New Year's Eve event was held at The Hillside Manor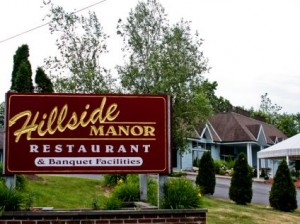 , a leading fine dining and events facility. Host Denni Demosthenes managed to get all guests to the table despite the many attendees who arrived up to an hour early! Over 350 seniors attended and enjoyed a full dinner and dessert, dancing to both live and DJ'd music, a champagne toast and, of course, New Year's hats and noisemakers. The music makers mixed it up with the predictable old favorites and many contemporary hits that got everyone on the floor rocking.
For the third year, the main sponsors were Birchez Associates, the Bruderhof, and the Demonthenes family which owns The Hillside Manor. Other local purveyors also helped out. For example, Adams Fair Acres Farms donated beautifully prepared (and delicious) cookie platters for each table, Deisings Bakery provided the  dinner rolls.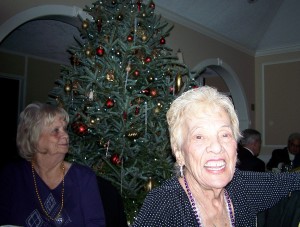 The smiles of the seniors were evident at the festively set tables in both the full rear ballroom and the restaurants front function room. Not to be outdone by the decor, many of the ladies were "dressed to the nines." As one quipped, "Where else am I going to get the opportunity to get so dressed up. I love it!" Join the festivities via video (only a minute and a half in length) in which Birchez principals Steve and Judy Aaron welcome one and all.
Several political leaders stopped by to lend their support, most notably Congressman Maurice Hinchey who greeted many by name. Outgoing legislator Walter Frey and encumbent councilman Jimmy Bruno traveled from Saugerties. Majority Leader for the Kingston Common Council Tom Hoffay was in early attendance. Newly elected Alderperson Deb Brown, 9th ward Kingston, shared her thoughts on the video.
Seniors who attended and who would like to comment on the evening can contact us at birchezassociates@gmail.com. We'd love to share your thoughts as we enter 2012!
Holiday Party Has Seniors Rocking to the Beat
Holidays can be lonely for seniors living on their own. But at the Birchez Associates communities, you'll find many ways to celebrate the holidays. In addition to cosponsoring the Kingston area senior New Year's Eve party (to watch video, click here), Birchez owners Steve and Judy Aaron also hosted a holiday party for all their senior residents and staff.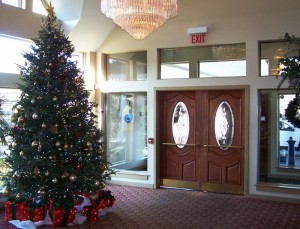 At The Hillside Manor, a popular dining and events destination in Kingston, Birchez took over . A decorated Christmas tree welcomed guests in the foyer, with holiday decoration throughout. Cocktails and hors d'oeuvres started the event in the front ballroom. Then festivities moved to the full back ballroom (complete with its own Christmas tree and Menorah) for dinner and dancing.
Special guests included Congressman Maurice Hinchey who spun at least one senior on the dancefloor. County Treasurer Eliott Auerbach and his lovely wife Judy, County Clerk Nina Postupak, County Legislators Peter Loughran, Hector Rodriguez and Walter Frey, as well as Town of Esopus Council members Kyle Barnett, Gloria VanVliet and Donna McAuley also joined the party.
The band leader of "Outside the Box" thought he was doing the right thing when he mentioned a 92 year old resident was on the dance floor, only to have other dancers raise their hands to say "I'm in my nineties too!"  From the salad course through desert, the dance floor was in motion. Whether a classic melody or a cover of a contemporary song from Lady GaGa or Adele, guests were up and dancing. Chambers Court Resident and Centenarian Bill McDonough didn't dance but had a front row table to watch others do so.
Pointsetta centerpieces obtained through the local Boys & Girls Club were given to those residents who found a lucky penny underneath their place setting. In addition to peach melba for desert, plates of cookies from local Deising's Bakery provided some extra energy for seniors to keep the dance floor full.
And for residents who no longer drive, A.N.N. Transportation provided a handicapped bus and van to get everyone to the event. After four hours of partying, there was even some grumbling when the announcement was made that the bus and van were ready for loading to take residents home. "Already?" some were heard to exclaim!
For additional pictures, see Holiday Party album on Facebook
Doing 90
November 29, 2011:  The Report 90+ in the United States: 2006-2008 was issued this month by the American Consumer Survey (ACS), which is sponsored by the US Census Bureau. The ACS gathers data for the Census Bureau on an annual basis; this data is utilized by communities in allocating investments and services. Unfortunately, crunching the data and reformatting it into readable, intelligible reports takes time. Hence the appearance of three-year lag; in reality the 2010 census is cited in some instances.
Significant in the findings is that 90+ is the new 85+. Many demographic reports analyze age groupings such as 55 to 64, 65 to 74, and then 85+. This assumes a commonality in the group and/or smaller numbers that may not be reliable statistically. Yet the reality shown in this  report is that there are some sharp distinctions, even in the five year segment breakdowns of 85 to 89, 90 to 94, and 95+. Certainly as our seniors of today age healthier than their predecessors this will morph expectations for these segments.
This segment is growing both in size and proportion of the older population. Between 1980 and 2010, the people aged 90 and over almost tripled to 1.9 million. Projections are that the 90+ segment will more than quadruple by 2050, in comparison to a doubling of the population 65 to 89.
New York currently ranks third (after California and Florida) in the sheer number of 90+ residents, but it's not even in the top ten when comparing the percentage of 90+ versus the 65+ populations by state.
The report details racial and educational statistics, and considering the report covers those born in 1918, this is an educated group. Perhaps not a surprise that women aged 90+ outnumber 90+ men nearly 3 to 1.
The economic numbers are certainly of interest in the affordable housing field:
Social Security represents almost half of total personal income for the 90+ (47.9%)
The poverty rate for the 90+ is higher than that for those aged 65-89
16.5% of women and 9.6% of men aged 90 and older were in poverty 2006-2008
When one considers this in the perspective that many baby boomers are ill prepared for retirement, and certainly for living some 20 years longer than expected, the economic forecast for this segment is of concern. Further compounding this is that the report addresses the 2006-2008 period, during which the source of 29.8% of 90+ income was  "other" (which would include directly held investments), and 18.3% came from retirement accounts. Given the financial upheaval from the end of that period to the present would indicate that the 2011-2012 period would mean the 90+ segment might well be relying on Social Security for more than half of their income.
Difficulty doing errands alone and mobility-related limitations are the two most common types of disability for the 90+ (disability in this context is defined as a substantial limitation in a major life activity). Appropriate transportation modalities, proximity of services and handicapped accessibility will be key features of senior housing to come.
Aging in place will play an important role for the 90+ segment. While the percent of people with disabilities increases sharply with aging (see below), the nature of the disability(ies) may determine whether the individual needs an institutionalized setting or not. Certainly advances in senior housing facilities and services offer alternatives to more expensive nursing homes or even alternative level of care  facilities.
Ages 85-89      80.4% report one or more disabilities
Ages 90-94      82.7%
Ages 95+          91.2
To see the full American Community Survey Report, 90+ in the United States: 2006-2008, authored by Wan He and Mark N. Munchrath,  click here.
- K.J. McIntyre
Spring Expo shows off Birchez Associates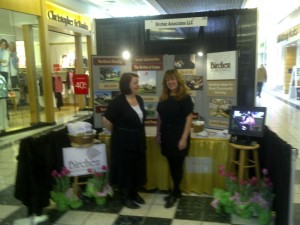 This year's Lions' Club Expo at the Hudson Valley Mall featured a new participant: Birchez Associates. Shown to the left with our booth are Teri Sola, Property Management Compliance, and Cheryl Meehan, Property Manager at both The Birches at Esopus and The Birches at Saugerties. Throughout the two day event we were also represented by Judy Fitzpatrick, Senior Property Manager, Paul Watzka, Director of Community Affairs, and K.J. McIntyre, Director of Marketing.
Last but certainly not least, the one and only Alice Tipp, Senior Advocate for The Birches Communities, held court for several hours on Sunday. After her 30 years in the legislature and over five years with us, Alice is known far and wide. One couple who stopped by, married for over 50 years seemed to take almost more pride in their voting record for Alice from the beginning of her career in public service.
One unexpected treat for the staff was the number of residents who stopped by, frequently showing off photos or stopping to point out parts of the videos being shown to their friends and family. We hope that many of our visitors will in fact submit applications so that we might add them to the wait lists. Sooner you are on the list, the sooner a spot might open with your name on it! If you didn't make it to the mall, stop by one of our communities (call first to assure a tour and application will be ready for you). Just click on the communities tab or one of the community photos on the home page for contact information.
K.J. McIntyre, Director of Marketing, Birchez Associates, kjmcintyre@birchez.com
When Medication Leads to the ER
Maybe it was having one of our residents checked out at the ER today that tweaked my interest when I saw a posting picked up by msnbc.com – Health.

As reported by My Health News Daily, older Americans face a greater risk of harmful reactions to medications than younger individuals, a new study suggests. The study, conducted by the Substance Abuse and Mental Health Services Administration (SAMHSA), found adults ages 50 and older comprised 51.5 percent of all emergency department visits in 2008 that were due to reactions to medications. That's about 1.1 million visits. And of those visits, about 61 percent were made by people aged 65 or older, and 60.9 percent were made by women.
Older people may be more likely to react badly to their medications because of physiological changes that occur with age, or because they're taking multiple medications, the researchers said. These reactions may pose an increasing public health challenge as the number of older Americans continues to grow in decades to come.
"Individuals taking medications need to take personal responsibility, and not assume that just because the medications are legally prescribed that they are without risk," said SAMHSA Administrator Pamela S. Hyde. "People should monitor how they feel when on medication, ask their doctor about what signs to look out for, and not hesitate to contact a doctor if they feel the medication is having adverse effects on their health."
Birchez Editor's Note: I'd go one step further. Ask your doc for a review of medications when a new med is prescribed. Sometimes the prescribing physician is only looking at the top page or so of the chart and may not be aware of other meds that may interfere with or magnify the effects of the new med. Also, keeping all your prescriptions at one pharmacy may catch some harmful drug interactions and reactions BEFORE they happen.
Most of the emergency visits involved reactions to just one medication. Reactions to pain relievers accounted for the largest share of these visits (24.3 percent). Other cases involved cardiovascular system medications, metabolic disorder treatments and psychotherapeutic drugs. Nearly 33 percent of emergency room visits by older adults resulted in hospitalizations for further treatment, the study showed.
The study was based on data from SAMHSA's 2008 Drug Abuse Warning Network (DAWN). DAWN is a public health surveillance system that monitors drug-related hospital emergency department visits reported throughout the nation.
Pass it on: Older Americans make up the majority of those who visit the emergency room for adverse reactions to medication.
Article passed along by K.J. McIntyre, Director of Marketing, Birchez Associates.
Making sure home health aides are helping
Senior Housing News reports that while home and community based service delivery is a critical component for the future of senior care, a new study finds that paid caregivers may not be up to the task.  One more reason to work with licensed home health care agencies. Check into the training and screening that the agency provides. Our Senior Advocate, Alice Tipp, as well as Director of Community Affairs Paul Watzka can assist in providing information on local agencies, as can the property managers at The Birches senior communities. Here is info cited in the article:
A new study, titled "Inadequate Health Literacy among Paid Caregivers of Seniors", by Northwestern University finds that more than one-third of caregivers had difficulty reading and understanding health-related information and directions. Sixty percent made errors when sorting medications into pillboxes.  The study, which will be published in the Journal of General Internal Medicine, surveyed non-family caregivers in the Chicago area and assesses their health literacy levels and caregiving tasks.  The study is serving as a basis to work on establishing employment screening tasks as one of the long-term goals of the study.
"We found that nearly 86 percent of the caregivers perform health-related tasks," said Lee Lindquist, MD, assistant professor of geriatrics at Northwestern University Feinberg School of Medicine and physician at Northwestern Memorial Hospital and lead author of the study. "Most of the caregivers are women, about 50 years old. Many are foreign born or have a limited education. The jobs typically pay just under $9 per hour, but nearly one-third of the caregivers earn less than minimum wage."
– K.J. McIntyre, Director of Marketing, Birchez Associates LLC
Redefining Affordable
Kingston, 11-10 by Kim Plummer
Over the past few years there has been a dramatic decrease in the number of affordable housing developments being built throughout New York State. For aging boomers seeking affordable housing, the key is to start looking early, do your homework, and reach out to local agencies, sources say.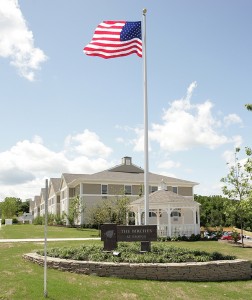 Ken Harris, senior policy analyst for New York Association of Homes and Services for the Aging (NYAHSA) says the decline in this sort of housing can be attributed to increased costs and zoning issues. "A lot of housing that needs to go through zoning changes is finding opposition from neighbors in many cases," Harris says. "It's a recent trend that's difficult." . . .
When looking for affordable senior housing, one should keep in mind that affordable housing can still be very competitive with market-rate housing as far as amenities go. A lot of people believe the more you pay, the more services you get, but that's not always the case, Harris says.
Housing is unique; amenities, transportation services, and communities vary quite a bit, even in the realm of affordable housing units. Harris suggests people do their homework when searching for affordable housing; one element he finds particularly important to seniors is an onsite service coordinator.
"The service coordinator is sort of like a linchpin between the resident and services in the community," Harris says. "They can help the resident find resources in the community – everything from Medicare, Medicaid, help with information, and supportive health services."
Currently, The Birches at Chambers in Ulster and the Birches at Esopus in Ulster Park are two ADA-compliant, affordable housing facilities resembling market-rate housing. Amenities in the average rental price of about $750 per month include fitness trainers in the onsite fitness studio, a movie theater, community rooms, a library, fully equipped computer labs with Internet access, and craft rooms. Additionally, The Birches at Chambers is anticipating LEED Platinum certification and has been certified as a NYUSERDA Energy $mart Building. "It's not what people expect to see for affordable housing," says K.J. McIntyre, director of marketing for Birchez Associates, LLC.
Most recently, Birchez Associates has received initial funding from the Federal Home Loan Bank of New York to build affordable senior housing onto the Elant campus, a nursing home in Fishkill. This will be another ADA-compliant facility. "With the service of Elant close at hand, we can offer additional home health and nursing care as needed, while our residents continue to live in their homes, as opposed to the nursing home environment," McIntyre says.
Birchez Associates also owns and manages two additional affordable senior housing communities. Chambers Court, completed in 2004, provides cottage-style one- and two-bedroom apartments adjacent to The Birches at Chambers in Ulster. The Birches at Saugerties is another affordable senior community completed in 2006 with 60 garden-style apartments. . . .
Seniors who need assistance finding affordable housing can contact their local Office for the Aging, where they can be provided with additional consultation about affordable housing as well as Active Adult Communities that specially reserve units for affordable housing.
Photo: The Birches at Esopus
Excerpted from the full article, Affordable Housing Trends: Redefining Affordable, in the Boomer's Guide to Living 2010 published by Schein Media (Kingston, NY)
The publication is currently available by clicking here.