Alzheimer's Association Presentation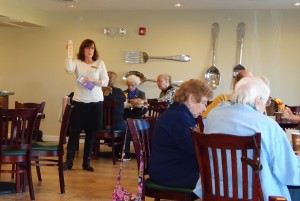 Janet Syvertsen from the Alzheimer's Association Hudson Valley Chapter gave a wonderful and informative presentation today to our residents about knowing the 10 early signs and symptoms of Alzheimer's.The ten signs and symptoms:
Memory loss,
challenges in planning or solving problems,
difficulty completing familiar tasks,
confusion with time or place,
trouble understanding visual images,
new problems with words or speaking,
 misplacing things and losing the ability to retrace steps,
decreased or poor judgement,
withdrawal from work or social activities, and
changes in mood and personality.
For more information about the ten signs visit http://www.alz.org/10-signs-symptoms-alzheimers-dementia.asp.
And don't forget to visit and like us on Facebook! https://www.facebook.com/TheBirchesatChambers/
Empowering Seniors
Birchez Associates was proud to sponsor the 9th annual Circles for Caring Conference presented by Jewish Family Services of Ulster County. This year's theme: Empowering Seniors. The event was filled with entertaining, informative and engaging sessions, including a welcome by Lawrence Force PhD, Director of Center on Aging and Policy, and Keynote speaker Maria Alverez, executive Director, Statewide Senior Action. Sharon Murray-Cohen, LMSW, Executive Director of JFS, Ulster, explained why the not for profit, non denominational agency chose this year's theme of Empowering Seniors:
"The grey wave is a demographic group of younger seniors to much older seniors as baby boomers come of age and have longer life expectancy. If a person lives a good long life, a third of it will be as a senior. How then does society empower seniors, a diverse group with unique needs and wants? We need to stay strong in raising the profile of senior citizens though awareness and education. The goal of today's conference is to Empower Seniors by placing the senior at the center of discussions and planning for their lives."
Meet Number 1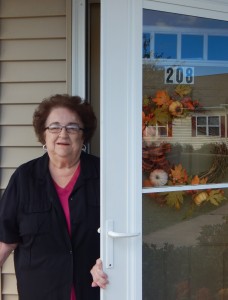 Steve Aaron, Founder and Managing Member of Birchez Associates, gave Phyllis Sonner a nickname: "Number 1". When Chambers Court opened in 2004, Phyllis was the first Resident to move in. And Steve Aaron remembers it well. He was visiting the property the day Phyllis and her possessions arrived.
Only one problem, there was no one from the then property management company to meet or assist her. So Steve jumped in and helped Phyllis move.
Steve also vowed that day that he would fashion a property management company that would treat all Residents as members of the family. That was the inspiration for Rondout Property Management taking over the day-to-day operation of Chambers Court and all our subsequent communities.
Phyllis, a Kingston native, remembers Steve Aaron, from before her first day at Chambers Court. When Steve was a youngster, he used to stop in with his father Marty Aaron at the Furniture Factory where Phyllis worked for many years. And later, Phyllis of-ten saw Steve working at Fowler &Keith, the family's industrial hardware company.
Today, Phyllis is proud to be the grandmother of six and the great grandmother of three. Despite having two of her children living in North Carolina, she has had recent visits with both. One of her grandsons and his wife both served in Iraq, which could account for some of the red, white and blue décor in Phyllis' cottage.
A Resident for twelve years, Phyllis remains a vibrant member of the Chambers Court Community. "I can't say enough about living at Chambers Court. It's safe, so nice and pretty, so convenient. And for the amount we pay, I am so appreciative!"
P.S. We borrowed Phyllis' Welcome chair, complete with Fall Flowers, for this issue's masthead. Phyllis is known for the seasonal decorations of her door and entry area.
With 72 cottages, Chambers Court is in the town of Ulster, adjacent to both Chambers Elementary School and The Birches at Chambers which opened in 2010.
"You have to be in it. . ."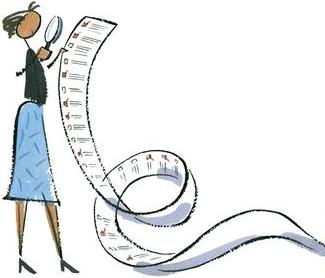 So starts the Lotto ad. And the same is true of our wait lists. If you don't have an application in, you're not on the list. Wait lists can discourage some, but we want to encourage you. When an apartment becomes available, it is available to the next qualified and ready applicant. But apartments are as-signed to particular income bands, and we have disabled and frail elderly preferences to consider as well.
What's this all mean to you? You are on a subsection of the wait list based on your income and whether those ahead of you are ready to move in when the apartment becomes available. We've seen instances where we contact 20 applicants before we find a Resident. Plus should you not be ready when you are called it doesn't affect your standing. You stay on the list.
Fill out an application soon! You can download an application, stop by at our communities (either by appointment or from the brochure display in the lobby) or just call toll free 888-980-0090 and we will mail you an application.
Welcome to the Team
We are pleased to welcome new members to our Birchez Associates Marketing group and Rondout Property Management teams.
Megan Donahue, a recent SUNY New Paltz grad, brings more than book knowledge to her job as Marketing Assistant for Birchez Associates. Megan served semester internships at both the County Executive's office and Benedictine Health Foundation. Plus this Saugerties resident worked weekends and summers throughout college. Despite her extracurricular activities, Megan managed to attain the Dean's List.
Theresa Walsh Miranda began her housing career in 2002 and joins us as an experienced property manager. Theresa is now the Community Manager at both Chambers Court and The Birches at Saugerties. Her professional accreditation includes Low Income Housing Tax Credit Certification, Accredited Residential Management, IREM Certification and Assisted Housing Management. Theresa is a graduate of the Ulster County Leadership Institute, and is a certified Health & Wellness Coach.
Mary Rauchet is the new Community Manager at Birchwood Village, our workforce family community sited in Kingston. Mary has extensive property management experience, having served as manager of 150- and 256-unit properties. She also worked for seven years as the financial manager for the Newburgh Housing Authority. Mary is a Certified Occupancy Specialist as well as a certified New York State Notary Public.
"Grandma, I've Been Arrested."
A Look into Elder Abuse
Perhaps you've heard of phone scammers posing as grandchildren to get money from seniors. But you may be surprised by the variety and pervasiveness of Elder Abuse that can affect our relatives and neighbors.
Types of Elder Abuse include physical, emotional, neglect, financial, sexual and abandonment. Many affected seniors experience more than one type of abuse. Financial exploitation is the highest type of reported abuse.
Did you know that 5 million elder adults are abused, exploited, or neglected each year yet only 1 in 23 cases of Elder Abuse are reported? Why are so few cases reported? Because too often the victim relies on the perpetrator who is a family member and/or is the victim's caregiver.
This summer, Birchez Associates worked with members of the Ulster County Elders Abuse Prevention Task Force to bring educational presentations on Elder Abuse to each of our senior communities. The Task Force, created by County Executive Michael Hein, is designed to raise awareness, increase education and improve prevention of elder abuse.
New York State is the only state that does not mandate the reporting of suspected Elder Abuse as is required for child abuse or abuse of persons with disabilities. While we are not mandated reporters, Birchez encouraged all community staff employees to attend the sessions held for our senior Residents.
"We have seen cases of Elder Abuse and either report these situations directly or help our Residents and family members to report to the proper authority," said Judyann Fitzpatrick, who serves as Manager of Compliance.
"The cases have typically been financial abuse, where a family member gains access to the Resident's bank account and misappropriates funds, or neglect in which a health aide leaves the Resident unattended. The Task Force sessions help our staff to be on the alert for any form of Elder Abuse that could affect our Residents." Thank you to the skilled members of the Task Force, Dena Crane, Toby Krawitz and Colleen Mountford, for sharing their expertise in bringing the educational sessions to our Communities. This outreach was supported by the Office for the Aging and Jewish Family Services.
Don't Hesitate. Call.
Among Ulster County (UC) resources to contact if you suspect Elder Abuse:
UC DSS Adult Protective Services 845-334-5153
UC Crime Victim's Office 845-340-3443
UC Sheriff's Office 845-338-3640 or local police agency
UC District Attorney's Office 845-340-3315
The person's physician or bank
Or contact the Community Manager at the Birchez Community in which you, or your loved one, lives and he or she can direct you to appropriate resources.
Birchez Doubles Underwriting Commitment to Kingston Community Radio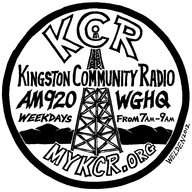 Tony Marmo, cohost of "Feel Good Friday", announced today that longtime Kingston Community Radio supporter Steve Aaron from Birchez Associates, doubled his underwriting support for KCR (920 AM).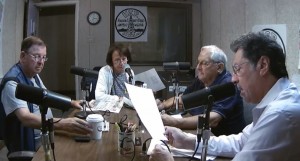 "We thank Steve. He's a generous guy in the community and much of it goes unnoticed. We thank him for his support of KCR and keeping us on the air." Nina Postupack, Rich Mathews and Lew Kirschner joined in thanking Steve Aaron, Founder and Managing Member of Birchez Associates. Birchez is an original underwriter of KCR, going back to 2002. Under the unflagging efforts of the late Walter Maxwell, KCR has served the greater Kingston area for the last 14 years and we want to help keep it going.
If you would like to send a contribution to keep KCR a vibrant community service, you can mail donations to Kingston Community Radio, 82 John St, Kingston, NY 12401 or get on their website MyKCR.org to contribute through the NobleActs button as a guest to set up a one-time or ongoing contribution.
KCR programming airs weekdays between 7am and 9am on WGHQ, AM 920, in Kingston, NY. Volunteer hosts interview guests and take listener telephone calls (at 845-331-9255) to discuss various topics of interest in the community including local, state and national issues. Birchez has been a frequent guest, speaking on senior issues, and we know that many of our Residents are regular listeners of KCR. To see the weekly roster of talented hosts, go to https://mykcr.org/content/kcr-host-schedule
Birchez Foundation awards grant to Kingston Library

      Tuesday, August 30, 2016
KINGSTON – The Kingston Library Mobile Technology Training Center has received a $5,000 grant from the Birchez Foundation. The mobile center will consist of 12 Chromebook computers and a Chromebook storage and charging cart to create a mobile technology training center to teach basic computer competencies.
Birchez Associates' founder Steven Aaron announced the grant.
The initial focus of the mobile center will be seniors, age 65 and older, from the greater Kingston area, especially those who find it difficult to get to a library.
"We have noticed that many of our seniors, especially those in their late 70s and above have not acquired basic computer skills," said Aaron. "Our onsite computer centers can be intimidating for those not familiar with these basic skills."
"This grant supports our mission as a vital center in our diverse community, in this case through empowering seniors by providing access to library service," said Kingston Library Director Margie Menard. "We have been working collaboratively with other libraries in the areas to 'bring the library to seniors'. This grand is an important aid to that initiative."
 Copyright © 2016 Mid-Hudson News Network
Resident wins top prize!
St. Mary's Benevolent Society held its Annual 20 Week Raffle Party Sunday afternoon at it's hall near the Hudson River beach in Kingston NY. But with the fabulous spread of food and a chance to win over $2,500 in prizes, attendees were happy to be inside for a few hours.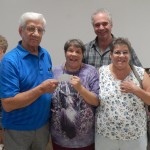 Steve Aaron, Founder & Managing Member of Birchez, treated eighty Residents and staff to the event, which also included entry into the big drawing. And a Resident from Chambers Court won the top prize, shown here being presented with the check and celebrating with her twin sister and Steve Aaron! Among the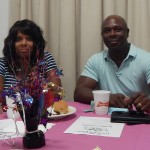 guests, Alderman Tony Davis and his lovely wife Ginger. We found a couple of surprise servers behind the bountiful buffet: Candidate for Surrogate Court Sara McGinty, shown with Birchez' Community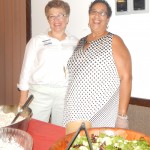 OutreachCoordinator Shirley Whitlock. And of course Birchez' Senior Advocate Alice Tipp held court at her table! All of the senior communities of Birchez were represented, and we left happy and full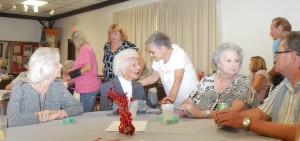 Germanfest! Birchez supports Shriners International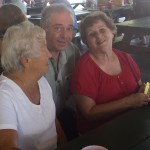 Summer has given us the opportunity to celebrate with our Residents at a variety of barbecues and festivals. The most recent: yesterday's 18th Annual Germanfest, held by the Ulster County Shrine Club at the Town of Ulster Park (Robert E. Post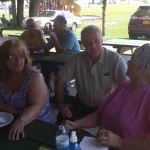 Park). We are pleased to be able to support Shriners International through the Ulster County club. Birchez Associates treated Residents to the event which featured continuous serving of German bratwurst, hot dogs and burgers PLUS a main meal of Roast Pork and all the trimmings.Steve Aaron, Founder & Managing Member of Birchez had the opportunity to visit with Residents. Some of our Ulster neighbors were in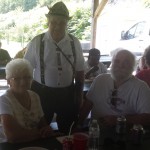 appropriate dress (lederhosen & Tracten hat in the photo), but the river breeze made the warm day delightful. Lots of great music from the Jay Unger that had the crowd up and dancing. Our residents won several door prizes and the 50/50! Thanks to Kevin Costello and James Maloney for inviting us!