Resident wins top prize!
St. Mary's Benevolent Society held its Annual 20 Week Raffle Party Sunday afternoon at it's hall near the Hudson River beach in Kingston NY. But with the fabulous spread of food and a chance to win over $2,500 in prizes, attendees were happy to be inside for a few hours.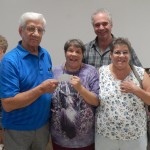 Steve Aaron, Founder & Managing Member of Birchez, treated eighty Residents and staff to the event, which also included entry into the big drawing. And a Resident from Chambers Court won the top prize, shown here being presented with the check and celebrating with her twin sister and Steve Aaron! Among the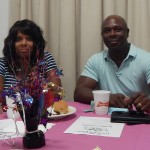 guests, Alderman Tony Davis and his lovely wife Ginger. We found a couple of surprise servers behind the bountiful buffet: Candidate for Surrogate Court Sara McGinty, shown with Birchez' Community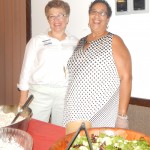 OutreachCoordinator Shirley Whitlock. And of course Birchez' Senior Advocate Alice Tipp held court at her table! All of the senior communities of Birchez were represented, and we left happy and full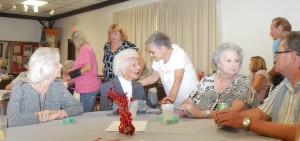 Birchez Associates Continues to Strive for Excellence with Opening of New Resident Craft Studio and Gallery
Going far beyond what's required for affordable housing communities, Birchez Associates is known for its strong commitment to the properties it develops, often adding a number of unique amenities that make residents truly feel special.
In August, the company demonstrated this commitment once more with the grand opening of a craft studio at the Birches at Esopus, an award-winning senior living community in Esopus. The studio, dontated by Birchez founders Steven and Judy Aaron, offers a central place for residents to explore their creativity, as well as an opportunity for a club called "The Busy Bee Crafters" to display its wares onsite to support additional projects and local causes.
"Being a part of the club and sharing our talents with the community gives us a sense of purpose," said Marie Shultis, a founding member of the Crafters. "Steve and Judy [Aaron] have provided us with a gift. Everything they do for their properties has created a way of life."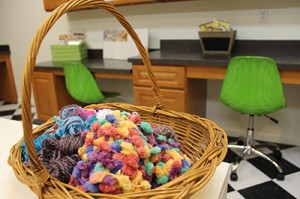 While impressive, the craft studio at the Birches at Esopus is just one example of the company going above and beyond the norm at its properties.
Founded in 2002, Birchez Associates strives to find solutions to the shortage of housing for those who need it most in the Hudson Valley. Its team prides itself on offering high-quality, affordable housing to senior citizens, veterans, and workforce families. The company currently manages five properties throughout the region, and it continues to add value to communities long after they open.
Ever since Birchez Associates launched, the Aarons have emphasized this commitment to excellence, providing a greater overall quality of life for residents. To make this happen, the company adds amenities usually reserved for high-end, gated community-style retirement living, while maintaining the affordability of its units.
In taking this approach, Birchez provide residents with amenities that they would enjoy in their own home. The newly opened craft studio, for example, creates a better sense of community at the Birches at Esopus, serving as a welcoming space that encourages seniors to step out of their apartments and into a more social setting. The property also features a community club area, movie theater, bocce ball court, fitness center, library and game room, where residents can gather and socialize throughout the day.
Birchez has been praised throughout the Hudson Valley for their commitment to excellence at each of their affordable housing properties. In addition to a number of amenities, the company's properties provide aging-in-place opportunities and feature a wide range of green initiatives. As a result of its efforts, hundreds of seniors in our local communities have been able to enjoy more fulfilling, interactive lives.
"Long after the Birches at Esopus project completion, Steve and Judy continue to demonstrate their love and commitment to the seniors in our community," said Esopus Town Supervisor John Coutant.
Birchez Associates manages affordable housing properties in Kingston, Saugerties, Ulster and Esopus.
A Sweet Treat
February 13, 2012
Residents of The Birches at Esopus celebrated Valentine's Day in style with a delectable brunch of homemade treats, plenty of smiling faces and friendly hugs from a special guest. The Community Room was decked out in style for the event, which was organized by the residents of this premier affordable senior housing community which overlooks the Hudson River.
Congressma Maurice Hinchey, who the residents lauded for his longtime support of and fight for seniors' rights, dined with the residents, listened to their concerns and clearly enjoyed the delicious fare. He's shown to the left enjoying a laugh with resident Fortunee Bennett.
Steve and Judy Aaron, who are responsible for this Birchez Associates community, praised those responsible for organizing the event, while delighting in the diversity of the scrumptious spread.
Longtime Valentines Bill and MaryAnn Banks, happily married for 35 years, spoke lovingly about the changes in their lifestyle since joining the Birches community and of the many activities and amenities offered at the facility. One of MaryAnn's choices is the bus that comes to the door and takes her for excursions at the Mall (especially when Bill's working or watching a game!). Spry and chic, the 91 year-young Shirley Shumate looked positively captivating in her red Valentine dress. For some seniors keeping in shape comes naturally, but many take advantage of the Fitness Studio, complete with instructor at no charge, at The Birches at Esopus.
Eileen McGuire, pictured with Shirley in the picture to the left, is president of the Residents Club at this award-winning facility.
Roseann Harominek spoke glowingly of her new life at the Birches at Esopus – as shown in the picture below, her smile speaks volumes. Many who attended were in their late 80s and 90s, fitting tribute to the aging in place philosophy of The Birches at Esopus and other Birchez Associates communities in the Hudson Valley.
Valentines from loving hands
Seniors give to other Seniors
For the last several weeks, a dedicated group of crafters at The Birches at Esopus have handcrafted some two hundred Valentine's Day cards. And where have they directed Cupid's arrows? The Golden Hill Health Care Center, Ulster County's nursing home, located off the Boulevard in Kingston. Started 65 years ago, Golden Hill provides both rehabilitation services and long-term health care.
A range of materials were creatively incorporated in these one of kind cards. Ribbons, jewels, doilies, wallpaper, whatever these clever crafters had at hand. Designs varied from whimsical to modern, something for everyone's tastes.
According to Crafts Club member Marie Shultis, this is the third year the Esopus seniors have created Valentine's Day cards for the seniors at Golden Hill. "If we had one thing to do over, we would have started earlier," she said. But with a new target of 200 cards this year, their highest to date, they made it with a few days to spare.

On Friday, February 10th, a contingent of the crafters met with a few residents of Golden Hill to present the cards. The intent is that the cards could be used to brighten the resident's room or to give to a loved one.
As The Birches at Esopus group chatted with the residents, there was some sharing of techniques and materials used. Marie Shultis talked about some exacting measurements used in various crafts to make sure the results look as best as possible. Looking at the results, one might even say professional!
(More text below photos.)
The Crafts Clubs keep busy year 'round at both The Birches at Esopus and The Birches at Chambers. Chambers has had two annual collaborative events knitting hats for children with cancer.
At Esopus, the crafts room has shown off holiday gifts ranging from cards, kissing balls, knitted scarves and hats, and at this time of year, lots of red cards.
Every now and then the public gets a chance to check out the crafts at The Birches at Esopus. Last year, during the Town of Esopus Fall Festival, the tour bus made a stop at this senior affordable community so interested purchasers could browse the Crafts Club's creations. We'll let you know when the seniors have newly created crafts to share.
Stylin' Seniors
November 28, 2011 – As Baby Boomers take center stage, much is written on their spending patterns, use of technology, travel ideas, and more. But one of the most encouraging and inspiring takes comes from stylist Ari Seth Cohen in his blog Advanced Style, which proffers "Proof from the wise and silver haired set that personal style advances with age". Ari's subjects, male and female, are over 50 — and fabulous! He certainly demonstrates that age is no barrier to style.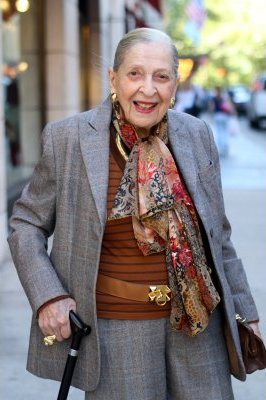 To the right, meet Rose, age 100, as she poses for Ari's blog.
Ari's book, Advanced Style, is on pre-order with Amazon with an April 2012 publication date (that's a shame because I would have loved to gift it this holiday season). As with his blog, the book promises insights from his subjects, an interview with a 91 year old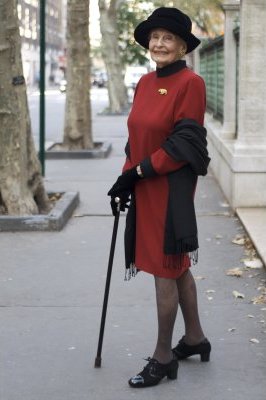 subject, and delicious photos (many apparently candid, on-the-streets of New York photos).
Meanwhile, Ari's blog also offers videos and enchanting tidbits on matching vintage items, and playing with different costumes and styles. Hats are plentiful and I predict an influx of designer canes!
I've seen many of our senior residents at the Birches communities, where the average age is in the 70s, styled and ready for their close up. Whether they are dressed for the fitness studio, the movie theater, or on their way out the door, many show great flair.
The old perception that the elderly dressed in dusters and wasted away their waning years in front of the TV just doesn't play with today's seniors. Fair warning, we'll be featuring some of our own Stylin' Seniors in future blogs.
Another of Ari's elegant subjects is Ruth, shown to the left, who is also 100 years old.
-- K.J. McIntyre
On the Radio – MyKCR.org
This Thursday, November 10, 2011, at 8:35am*, My Kingston Community Radio (myKCR.org, 920 am also known as WGHQ) once again shares the mike with K.J. McIntyre, Director of Marketing for Birchez Associates, for Senior Spotlight of the Month. This month's spotlight is on Jewish Family Services of Ulster County and will feature Sharon Murray-Cohen, LMSW. Sharon, who is the JFS Executive Director, will speak about the services offered to seniors and their caregivers.
One often mistaken notion is that you have to be Jewish to utilize Jewish Family Services. Far from it; somewhere around one in ten clients of JFS is Jewish. JFS, in addition to programs provided by staff and licensed social workers, also has a volunteer program to assist seniors. Whether it's just a call of reassurance, or accompanying a senior to the doctor's office or shopping, these activities done by volunteers can make a huge difference in a senior's quality of life. On Thursday during the live broadcast, you can call in to ask Sharon questions at 845-331-9255.
Jewish Family Services has new quarters at 280 Wall Street in Kingston above the Board of Elections. Their phone is (845) 338-2980, email JFS.Ulster@gmail.com and their website is JFSUlster.org
*If you miss the half-hour broadcast you can hear it online. Just go to mykcr.org, click on program archives, and fast forward about 2/3rds through the recording.
A senior moment or . . . what was the word? Alzheimer's

Town of Ulster, August 22, 2011  Wendy K. Rudder, LCSW and Care Consultant for the Alzheimer's Association presented the basics of the disease to some fifty senior residents of The Birches at Chambers and Chambers Court who gathered today in the Community Room at The Birches at Chambers. This  is the latest affordable senior community developed and managed by Birchez Associates. Ms. Rudder had been invited to speak through the efforts of Senior Advocate for Birches Associates, Alice Tipp.
Alzheimer's Disease is an irreversible, progressive brain disorder that affects memory, behavior, personality and muscle control. And the numbers are startling: While Alzheimer's generally affects people 65 or older, a quarter of a million under 65 have the disease. Over the age of 65, one out of eight people has the disease. The likelihood of developing the disease doubles every five years after age 65 so that 49% of those 85 and over have Alzheimer's — nearly one in two people.
Already more than 5 million Americans live with Alzheimer's and yet the Baby Boomers are just crossing the age 65 threshold. It is estimated that without a cure, Alzheimer's will move up from the #7 cause of death among adults to number one by the middle of this century.
Ms. Rudder shared the 10 Symptoms of Alzheimer's Disease with her audience, careful to explain that just forgetting where you put the keys last night or temporarily forgetting someone's name or a movie title you saw two weeks ago are probably more senior moments than symptoms of the disease. www.alz.org gives some good examples of the difference between senior moments and symptoms under "Know the Ten Signs". The 10 Symptoms are:
Memory loss that affects everyday living
Challenges in planning or solving problems
Difficulty completing familiar tasks
Confusion with time or place (even familiar places)
Trouble understanding visual images and spatial relationships
New problems with words in speaking or writing
Misplacing things and losing the ability to retrace steps
Decreased or poor judgment
Withdrawal from work or social activities (initiative)
Changes in mood or behavior.
Wendy suggested that the above symptoms may merit a visit to a neurologist. And she stressed that one or two of the symptoms by themselves may not mean an Alzheimer's diagnosis. Sometimes the combination of medications, or the body's inability to absorb B12 is enough to mimic these symptoms.
The Alzheimer's Association can help in many ways including education, referrals  and caregiver groups. Their helpline and website is www.alz.org. The Hudson Valley/Rockland/Westchester, NY Chapter is housed in Poughkeepsie. If you are calling from Ulster County, use 845-340-8474. The Walk to End Alzheimer's raises funds for global research and to provide support services locally. In this area the Walks to End Alzheimer's will be Saturday, October 15th in Poughkeepsie and Saturday, October 22nd in Stone Ridge. To sign up, www.alz.org/hudsonvalley or call 1.800.272.3900.
Esopus Business Alliance Second Anniversary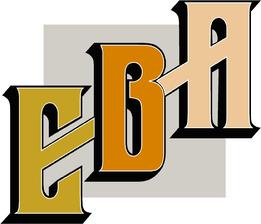 The Esopus Business Alliance (EBA), formed just two years ago, supports local businesses that both operate within Esopus or those outside Esopus which support the local community. Among these is The Birches at Esopus which has hosted a networking mixer for the membership.
Now the EBA is holding its second annual celebration with a picnic mixer on June 27th from 5:30 to 7:30 on the majestic lawns of the Hudson Valley School of Massage overlooking the Hudson River. Locate at 1723 Route 9W, West Park, the school is directly across from the Stonehedge Restaurant.
Come on out for a special evening. Live (and lively) music features Earl Pardini and his group. Complimentary picnic style refreshments, lawn games, chair massages and mini-facials by the H.V.S.M.T. staff, and a champagne toast to celebrate EBA's incredible first two years. Non-members and guests are welcome. There will be a $5 per person fee for members and an $8 fee for non-members, payable at the event.
This is a rain or shine event as indoor space will be available if needed. Registration is a must. Birches at Esopus residents who would like to attend, please call K.J. McIntyre at 845-532-7528 or email her at kjmcintyre@birchez.com so we may add you to the guest list. Sounds like a fun event!
Travel article features resident of The Birches at Esopus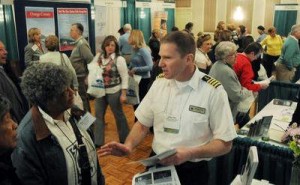 The Poughkeepsie Journal on April 6th covered the three-day Travel conference that focussed on the mid-Hudson River Valley as a tourist destination. Looking for ideas for The Birches at Esopus Residents' Club was Mary Jackson, who was pictured speaking with Captain Jeffrey Pyle of Empire Cruise Lines in Poughkeepsie.
The event was sponsored by two of the region's group travel-related companies, Hudson River Valley Tours and Destinations of New York State, and drew tour operators from as far as Ottawa, Canada. Judging from the buzz, we'll see many of the tour operators back with full buses and boats in the not so distant future.
The Birches at Esopus is one of four affordable senior housing communities built and managed through Birchez Associates. For more information, www.Birchez.com
For the full article, click here. PS: knowing Mary, she'll be available for autographs!
picture credit: Darryl Bautista/Poughkeepsie Journal
Seniors and Alcohol
12-6-2010 by K.J. McIntyre
I was giving a tour of The Birches at Chambers, our latest senior living community, to a professional who worked with seniors. As we looked at the community room and the adjacent patio with pergola creating a sweet seating area, my guest said, "What a perfect place to have afternoon cocktails."
I paused for a moment and said, "You don't mean for our residents do you?" She sited another senior residence where afternoon sherry is the norm. "Well," I said, "that's not something you'll find here."
Owners Steve and Judy Aaron are fierce about protecting their residents, and it shows in both the non-smoking campuses for their latest senior properties and that alcohol is discouraged for any function in the public areas. Their concern took on new significance when I heard Dave Lucas reporting on WAMC public radio regarding a new study of Baby Boomers and Alcoholism. As he reported it: "The Baby Boomers have become Senior Citizens – the generation that rocked and revolutionized the 1960s and 70s – then settled down in the 80s and 90s are now into THEIR sixties and early seventies – experiencing the change of going from a working life into retirement. Perhaps no coincidence, alcohol abuse is on the rise among their ranks."
Lucas spoke with Crystal Dea Moore, an associate professor and the program director of the social work program at Skidmore College, who is conducting interviews of seniors in the Saratoga area. She has worked with Swedish researchers on quality of life issues as they relate to alcoholism. The forecast is startling: the number of adults over 50 with substance abuse problems will double from 2.5 million in 1999 to 5 million by 2020.
It's easy to see the correlation;  changing metabolism, isolation and depression are too often common in the senior population, and all can increase the use and/or impact of alcohol. It's another reason we encourage an active life style at our communities and feature a senior advocate and others that can keep an eye out for our residents and recommend resources as appropriate. And it's a reminder for all of us to stay in touch with loved ones who may not have the support system in place that they once had. Locally, Jewish Family Services offers non denominational, home-based, one-on-one counseling for seniors suffering from depression, grief and other symptoms (costs can be covered under Medicare and Medicare Part B). For more information, their website is http://www.jfsulster.org; they can be reached at 845-338-2980.
You can listen to the full interview (click here) on WAMC.
(K.J. McIntyre is Director of Marketing for Birchez Associates LLC. She can be reached at kjmcintyre@birchez.com)