Resident wins top prize!
St. Mary's Benevolent Society held its Annual 20 Week Raffle Party Sunday afternoon at it's hall near the Hudson River beach in Kingston NY. But with the fabulous spread of food and a chance to win over $2,500 in prizes, attendees were happy to be inside for a few hours.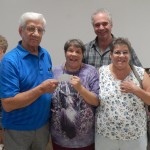 Steve Aaron, Founder & Managing Member of Birchez, treated eighty Residents and staff to the event, which also included entry into the big drawing. And a Resident from Chambers Court won the top prize, shown here being presented with the check and celebrating with her twin sister and Steve Aaron! Among the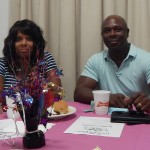 guests, Alderman Tony Davis and his lovely wife Ginger. We found a couple of surprise servers behind the bountiful buffet: Candidate for Surrogate Court Sara McGinty, shown with Birchez' Community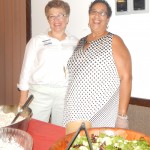 OutreachCoordinator Shirley Whitlock. And of course Birchez' Senior Advocate Alice Tipp held court at her table! All of the senior communities of Birchez were represented, and we left happy and full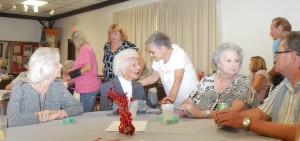 Keeping Affordable Housing Affordable
Senior affordable housing is a major benefit to retirees living on fixed incomes, but the public-private partnerships required to sustain such housing often bring about vigorous discussions over property taxes, specifically payments-in-lieu-of-taxes. In this Point of View, Steve Aaron sets out the steps that led to Birchez' request to amend the original PILOT agreement.
The following article appears in the Saugerties Times, Oct. 16, 2012. (Reprinted with permission)
Point of View: Agreement will keep Birches at Saugerties rents down
A lot has been said recently about The Birches at Saugerties' amended payment-in-lieu-of-taxes agreement [PILOT]. The issue can be easily misunderstood. I'd like to walk you through it to put the matter in perspective. First, The Birches at Saugerties exists to meet the affordable-housing needs of an important segment of our local residents — seniors on fixed incomes.
Ask anyone who lives in this or any other Birchez community and you'll immediately sense the pride and security they feel in having award-winning housing that's clean, safe and affordable in their home community.
Second, it's vital to these residents and to the entire town of Saugerties that we keep the rents affordable. (more…)
The Birches at Saugerties' Memorial Day Party
Residents of the Birches at Saugerties
were all smiles on Friday  

as they enjoyed a barbeque feast,
prepared by Paul Watzka and Al Teetsel,
in honor of Memorial Day. 
Stylin' Seniors
November 28, 2011 – As Baby Boomers take center stage, much is written on their spending patterns, use of technology, travel ideas, and more. But one of the most encouraging and inspiring takes comes from stylist Ari Seth Cohen in his blog Advanced Style, which proffers "Proof from the wise and silver haired set that personal style advances with age". Ari's subjects, male and female, are over 50 — and fabulous! He certainly demonstrates that age is no barrier to style.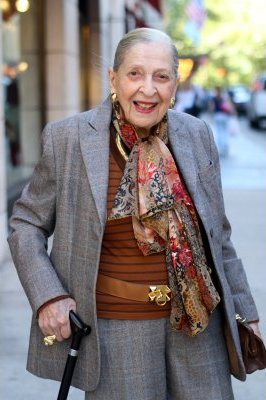 To the right, meet Rose, age 100, as she poses for Ari's blog.
Ari's book, Advanced Style, is on pre-order with Amazon with an April 2012 publication date (that's a shame because I would have loved to gift it this holiday season). As with his blog, the book promises insights from his subjects, an interview with a 91 year old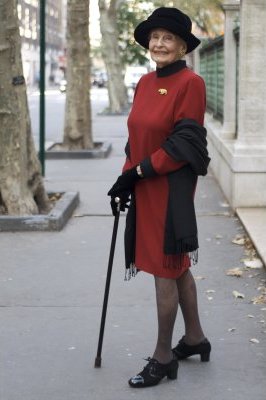 subject, and delicious photos (many apparently candid, on-the-streets of New York photos).
Meanwhile, Ari's blog also offers videos and enchanting tidbits on matching vintage items, and playing with different costumes and styles. Hats are plentiful and I predict an influx of designer canes!
I've seen many of our senior residents at the Birches communities, where the average age is in the 70s, styled and ready for their close up. Whether they are dressed for the fitness studio, the movie theater, or on their way out the door, many show great flair.
The old perception that the elderly dressed in dusters and wasted away their waning years in front of the TV just doesn't play with today's seniors. Fair warning, we'll be featuring some of our own Stylin' Seniors in future blogs.
Another of Ari's elegant subjects is Ruth, shown to the left, who is also 100 years old.
-- K.J. McIntyre
On the Radio – MyKCR.org
This Thursday, November 10, 2011, at 8:35am*, My Kingston Community Radio (myKCR.org, 920 am also known as WGHQ) once again shares the mike with K.J. McIntyre, Director of Marketing for Birchez Associates, for Senior Spotlight of the Month. This month's spotlight is on Jewish Family Services of Ulster County and will feature Sharon Murray-Cohen, LMSW. Sharon, who is the JFS Executive Director, will speak about the services offered to seniors and their caregivers.
One often mistaken notion is that you have to be Jewish to utilize Jewish Family Services. Far from it; somewhere around one in ten clients of JFS is Jewish. JFS, in addition to programs provided by staff and licensed social workers, also has a volunteer program to assist seniors. Whether it's just a call of reassurance, or accompanying a senior to the doctor's office or shopping, these activities done by volunteers can make a huge difference in a senior's quality of life. On Thursday during the live broadcast, you can call in to ask Sharon questions at 845-331-9255.
Jewish Family Services has new quarters at 280 Wall Street in Kingston above the Board of Elections. Their phone is (845) 338-2980, email JFS.Ulster@gmail.com and their website is JFSUlster.org
*If you miss the half-hour broadcast you can hear it online. Just go to mykcr.org, click on program archives, and fast forward about 2/3rds through the recording.
A senior moment or . . . what was the word? Alzheimer's

Town of Ulster, August 22, 2011  Wendy K. Rudder, LCSW and Care Consultant for the Alzheimer's Association presented the basics of the disease to some fifty senior residents of The Birches at Chambers and Chambers Court who gathered today in the Community Room at The Birches at Chambers. This  is the latest affordable senior community developed and managed by Birchez Associates. Ms. Rudder had been invited to speak through the efforts of Senior Advocate for Birches Associates, Alice Tipp.
Alzheimer's Disease is an irreversible, progressive brain disorder that affects memory, behavior, personality and muscle control. And the numbers are startling: While Alzheimer's generally affects people 65 or older, a quarter of a million under 65 have the disease. Over the age of 65, one out of eight people has the disease. The likelihood of developing the disease doubles every five years after age 65 so that 49% of those 85 and over have Alzheimer's — nearly one in two people.
Already more than 5 million Americans live with Alzheimer's and yet the Baby Boomers are just crossing the age 65 threshold. It is estimated that without a cure, Alzheimer's will move up from the #7 cause of death among adults to number one by the middle of this century.
Ms. Rudder shared the 10 Symptoms of Alzheimer's Disease with her audience, careful to explain that just forgetting where you put the keys last night or temporarily forgetting someone's name or a movie title you saw two weeks ago are probably more senior moments than symptoms of the disease. www.alz.org gives some good examples of the difference between senior moments and symptoms under "Know the Ten Signs". The 10 Symptoms are:
Memory loss that affects everyday living
Challenges in planning or solving problems
Difficulty completing familiar tasks
Confusion with time or place (even familiar places)
Trouble understanding visual images and spatial relationships
New problems with words in speaking or writing
Misplacing things and losing the ability to retrace steps
Decreased or poor judgment
Withdrawal from work or social activities (initiative)
Changes in mood or behavior.
Wendy suggested that the above symptoms may merit a visit to a neurologist. And she stressed that one or two of the symptoms by themselves may not mean an Alzheimer's diagnosis. Sometimes the combination of medications, or the body's inability to absorb B12 is enough to mimic these symptoms.
The Alzheimer's Association can help in many ways including education, referrals  and caregiver groups. Their helpline and website is www.alz.org. The Hudson Valley/Rockland/Westchester, NY Chapter is housed in Poughkeepsie. If you are calling from Ulster County, use 845-340-8474. The Walk to End Alzheimer's raises funds for global research and to provide support services locally. In this area the Walks to End Alzheimer's will be Saturday, October 15th in Poughkeepsie and Saturday, October 22nd in Stone Ridge. To sign up, www.alz.org/hudsonvalley or call 1.800.272.3900.
Resident Profile: Emanuela Mauro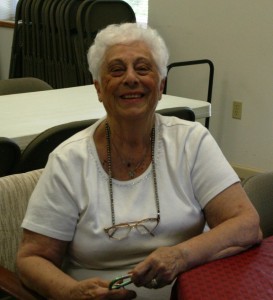 Though she's originally from Brooklyn, Emanuela Mauro (Ela to her friends), made her way up to Saugerties back in the early 1950s, when she moved with her husband, Mike, back to his hometown.
"Mike was born right here in Glasco.  So I moved up here with him and my two children at the time.  And that was '50 or '51," she says.  "Then we built a home right here on Route 32 outside of Glasco."
After raising her kids and retiring from a job in sales, Emanuela and Mike moved to Florida, where they lived for the next 20 or so years.  But when her husband passed away from a stroke in 2000, Emanuela knew that it was time to come home.
"My kids are here, so if something happened to me, I didn't want them worrying, like they did when my husband had his stroke," she says.  "They had to jump on a plane and out they came.  I had to consider them too, so I came back.
"So, here I be, like they say."
After living in an apartment building on Simmons Street in Saugerties, Emanuela decided that she was tired of the landlord's lax attitude toward taking care of problems.
"I heard of The Birches at Saugerties apartments being built at one of our senior meetings in the Town of Saugerties.  I think Steve [Aaron] had come in and spoke to us, to the elderly people, about wanting to put up a place… I put my application in, and I was eligible.  I didn't know if I was eligible or not, never having applied for any kind of help."
Part of what makes living in The Birches at Saugerties good for Emanuela is that she can afford it on her fixed income. "We didn't get a raise in social security, so we don't have any extra income," she says.
Fortunately, there are amenities in place at The Birches at Saugerties — like Senior Advocate Alice Tipp — that help residents like Emanuela live well without breaking the bank.
"Living here, we found out that the [Ulster County] Office for the Aging offers a lot of different help we can get," she says.  "I didn't know that when I lived in my other place. Here, Alice will tell us different things.  At the end of this month, they're going to give us a $20 booklet towards produce at the local Farmers' Market.  That's fresh vegetables we get to have. Lots of different things like that that we wouldn't know about if we weren't here."
Worth the Wait: Why Wait Lists Work
It's true: the wait lists are long for Birchez Associates' senior affordable housing communities.  But don't despair!  When we have an opening at a property, we go down the list of those who have checked that property on their application. Sometimes the people who are contacted aren't quite ready to make a move, giving more opportunities to people lower down.  For example, an applicant has  planned a long visit with fer grandchildren, another applicant needs to sell his home before moving. . .
On top of that, when Birchez has a new property, we reach out to the wait lists at our existing communities.  That's why some people on the waiting list for The Birches at Saugerties were able to find apartments in The Birches at Chambers. And others chose to stay on the wait list at The Birches at Saugerties. No penalty for declining the new property.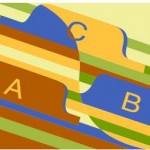 Even more important, the wait lists themselves can help create new affordable senior housing.  Case in point: New York State agencies can use wait lists as a region's proof of need when they decide where to allocate funding.  The senior population in Ulster County continues to grow, and with it the need for affordable housing grows as well.  If local, state, and federal agencies can see hard proof of that need, funding will help fill that gap. New York State Senator John J. Bonacic spoke of the need for affordable housing at the recent dedication of The Birches at Chambers in the town of Ulster. Here are the Senator's comments click here.
So what are you waiting for?  Sign up for the wait list!  It may not be as long a wait as you think…