Catholic Guild for the Blind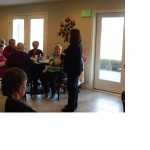 Dara Marshall Outreach worker is visiting our communities to discuss tools and techniques that help legally blind people live independently.  The Catholic Guild for the Blind have an adaptive living program that is for people who need training and services to assist them in living safely & independently at home.  This program offers services such as home management, financial management, meal management, personal care, communication skills, and orientation & mobility.  The person that is suffering from vision loss has to fill out an application ( by calling 917-510-3146)  and then an instructor will come in and help by offering all the services listed above.  This adaptive living program goal is to allow senior citizens who are experiencing vision loss to function independently.
Alzheimer's Association Presentation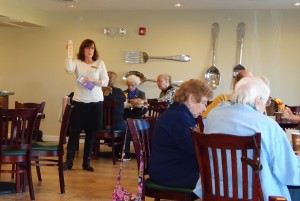 Janet Syvertsen from the Alzheimer's Association Hudson Valley Chapter gave a wonderful and informative presentation today to our residents about knowing the 10 early signs and symptoms of Alzheimer's.The ten signs and symptoms:
Memory loss,
challenges in planning or solving problems,
difficulty completing familiar tasks,
confusion with time or place,
trouble understanding visual images,
new problems with words or speaking,
 misplacing things and losing the ability to retrace steps,
decreased or poor judgement,
withdrawal from work or social activities, and
changes in mood and personality.
For more information about the ten signs visit http://www.alz.org/10-signs-symptoms-alzheimers-dementia.asp.
And don't forget to visit and like us on Facebook! https://www.facebook.com/TheBirchesatChambers/
Resident wins top prize!
St. Mary's Benevolent Society held its Annual 20 Week Raffle Party Sunday afternoon at it's hall near the Hudson River beach in Kingston NY. But with the fabulous spread of food and a chance to win over $2,500 in prizes, attendees were happy to be inside for a few hours.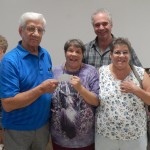 Steve Aaron, Founder & Managing Member of Birchez, treated eighty Residents and staff to the event, which also included entry into the big drawing. And a Resident from Chambers Court won the top prize, shown here being presented with the check and celebrating with her twin sister and Steve Aaron! Among the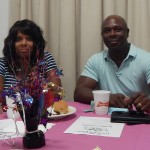 guests, Alderman Tony Davis and his lovely wife Ginger. We found a couple of surprise servers behind the bountiful buffet: Candidate for Surrogate Court Sara McGinty, shown with Birchez' Community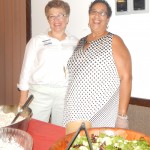 OutreachCoordinator Shirley Whitlock. And of course Birchez' Senior Advocate Alice Tipp held court at her table! All of the senior communities of Birchez were represented, and we left happy and full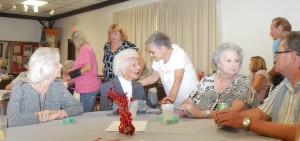 Germanfest! Birchez supports Shriners International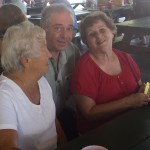 Summer has given us the opportunity to celebrate with our Residents at a variety of barbecues and festivals. The most recent: yesterday's 18th Annual Germanfest, held by the Ulster County Shrine Club at the Town of Ulster Park (Robert E. Post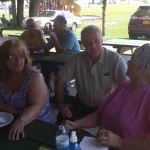 Park). We are pleased to be able to support Shriners International through the Ulster County club. Birchez Associates treated Residents to the event which featured continuous serving of German bratwurst, hot dogs and burgers PLUS a main meal of Roast Pork and all the trimmings.Steve Aaron, Founder & Managing Member of Birchez had the opportunity to visit with Residents. Some of our Ulster neighbors were in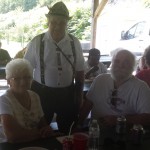 appropriate dress (lederhosen & Tracten hat in the photo), but the river breeze made the warm day delightful. Lots of great music from the Jay Unger that had the crowd up and dancing. Our residents won several door prizes and the 50/50! Thanks to Kevin Costello and James Maloney for inviting us!
State Senator Amedore visits with Residents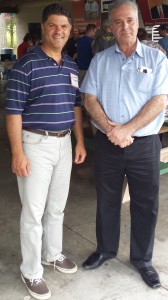 A Chicken BBQ at a Hudson Riverfront Park? Count us in! Residents of Chambers Court and The Birches at Chambers were treated by Birchez Associates and its Founder and Managing Member Steve Aaron to a seriously impressive spread. As the event was held by the Town of Ulster Republican Party, it was also an opportunity to visit with some of our elected officials and to get to know some of the candidates. State Senator George Amedore was on hand to greet constituents, in this case, Steve Aaron. Sharing headlines with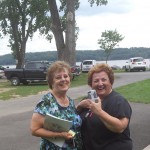 politics was the food! Each serving contained half a large chicken, and many took home containers of left overs. Thanks to Cynthia Wadnola for her culinary supervision (shown with fellow board member of the Town of Ulster Library – and Chambers Court Resident – Mary Nielsen). Vice Chairman of the Ulster Legislature James Maloney showed his ability to multitask, here serving the buffet along with Town of Ulster Board Member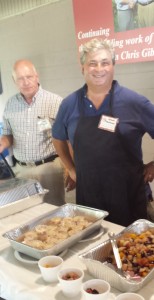 John Morrow. Former Town of Ulster Supervisor and Chambers Court Resident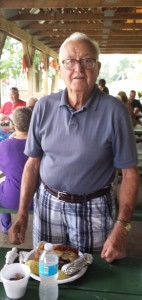 Andy Labarge is about to enjoy his plate of chicken and corn on the cob. And we couldn't get one table of Residents to look up from their plates long enough to pose for a picture!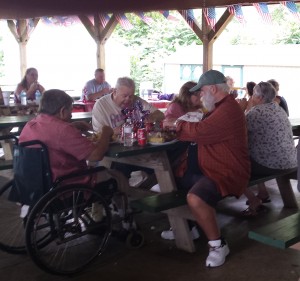 Chambers Elementary Students Serenade Neighboring Seniors
By KYLE WIND, Freeman staff, December 20, 2011
TOWN OF ULSTER — The Chambers Elementary School chorus on Monday spread some holiday cheer to its little corner of the world when students caroled and performed songs from their latest concert for residents of The Birches at Chambers and the Chambers Court senior communities.
Traditional holiday hymns 51 fourth- and fifth-grade students performed for their neighbors at the apartment complex, which is a short walk from the school, included "Joy to the World," "The First Noel," "Silent Night," and "Hark the Herald Angels Sing."
"It was wonderful," said 80-year-old Fran Gillis, one of the 25 residents who watched the performance. "It means very much to me, and the kids are really great." (To see the accompanying video, click here.
Chorus Director Mona Stovall said the carolling is part of a longstanding Chambers tradition she started in the late 1970s or early 1980s. Students have caroled in different places around town over the years ranging from the Golden Hill Health Care Center to Barnes & Noble.
Fifth-grader Kiera Gallo, who was excited for the chance to perform her solo in "The Holly and the Ivy," described the visit as "a chance to spread cheer through The Birches and Chambers Court."
"The children get great joy out of it, and so do I," said Stovall, who said she began the tradition because she believes in community service.
Stovall said the experience often exposes students to elderly people with disabilities, and some of her former students went on to become special education teachers, perhaps being put on that path as the result of their early carolling rounds.
Holiday Party Has Seniors Rocking to the Beat
Holidays can be lonely for seniors living on their own. But at the Birchez Associates communities, you'll find many ways to celebrate the holidays. In addition to cosponsoring the Kingston area senior New Year's Eve party (to watch video, click here), Birchez owners Steve and Judy Aaron also hosted a holiday party for all their senior residents and staff.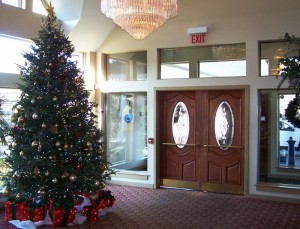 At The Hillside Manor, a popular dining and events destination in Kingston, Birchez took over . A decorated Christmas tree welcomed guests in the foyer, with holiday decoration throughout. Cocktails and hors d'oeuvres started the event in the front ballroom. Then festivities moved to the full back ballroom (complete with its own Christmas tree and Menorah) for dinner and dancing.
Special guests included Congressman Maurice Hinchey who spun at least one senior on the dancefloor. County Treasurer Eliott Auerbach and his lovely wife Judy, County Clerk Nina Postupak, County Legislators Peter Loughran, Hector Rodriguez and Walter Frey, as well as Town of Esopus Council members Kyle Barnett, Gloria VanVliet and Donna McAuley also joined the party.
The band leader of "Outside the Box" thought he was doing the right thing when he mentioned a 92 year old resident was on the dance floor, only to have other dancers raise their hands to say "I'm in my nineties too!"  From the salad course through desert, the dance floor was in motion. Whether a classic melody or a cover of a contemporary song from Lady GaGa or Adele, guests were up and dancing. Chambers Court Resident and Centenarian Bill McDonough didn't dance but had a front row table to watch others do so.
Pointsetta centerpieces obtained through the local Boys & Girls Club were given to those residents who found a lucky penny underneath their place setting. In addition to peach melba for desert, plates of cookies from local Deising's Bakery provided some extra energy for seniors to keep the dance floor full.
And for residents who no longer drive, A.N.N. Transportation provided a handicapped bus and van to get everyone to the event. After four hours of partying, there was even some grumbling when the announcement was made that the bus and van were ready for loading to take residents home. "Already?" some were heard to exclaim!
For additional pictures, see Holiday Party album on Facebook
Stylin' Seniors
November 28, 2011 – As Baby Boomers take center stage, much is written on their spending patterns, use of technology, travel ideas, and more. But one of the most encouraging and inspiring takes comes from stylist Ari Seth Cohen in his blog Advanced Style, which proffers "Proof from the wise and silver haired set that personal style advances with age". Ari's subjects, male and female, are over 50 — and fabulous! He certainly demonstrates that age is no barrier to style.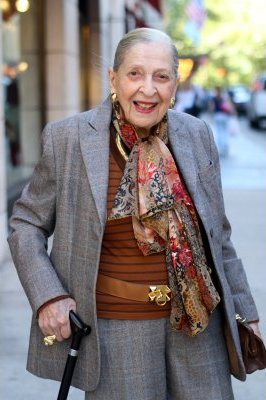 To the right, meet Rose, age 100, as she poses for Ari's blog.
Ari's book, Advanced Style, is on pre-order with Amazon with an April 2012 publication date (that's a shame because I would have loved to gift it this holiday season). As with his blog, the book promises insights from his subjects, an interview with a 91 year old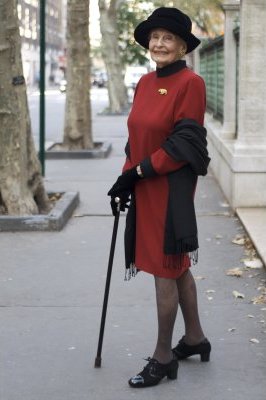 subject, and delicious photos (many apparently candid, on-the-streets of New York photos).
Meanwhile, Ari's blog also offers videos and enchanting tidbits on matching vintage items, and playing with different costumes and styles. Hats are plentiful and I predict an influx of designer canes!
I've seen many of our senior residents at the Birches communities, where the average age is in the 70s, styled and ready for their close up. Whether they are dressed for the fitness studio, the movie theater, or on their way out the door, many show great flair.
The old perception that the elderly dressed in dusters and wasted away their waning years in front of the TV just doesn't play with today's seniors. Fair warning, we'll be featuring some of our own Stylin' Seniors in future blogs.
Another of Ari's elegant subjects is Ruth, shown to the left, who is also 100 years old.
-- K.J. McIntyre
On the Radio – MyKCR.org
This Thursday, November 10, 2011, at 8:35am*, My Kingston Community Radio (myKCR.org, 920 am also known as WGHQ) once again shares the mike with K.J. McIntyre, Director of Marketing for Birchez Associates, for Senior Spotlight of the Month. This month's spotlight is on Jewish Family Services of Ulster County and will feature Sharon Murray-Cohen, LMSW. Sharon, who is the JFS Executive Director, will speak about the services offered to seniors and their caregivers.
One often mistaken notion is that you have to be Jewish to utilize Jewish Family Services. Far from it; somewhere around one in ten clients of JFS is Jewish. JFS, in addition to programs provided by staff and licensed social workers, also has a volunteer program to assist seniors. Whether it's just a call of reassurance, or accompanying a senior to the doctor's office or shopping, these activities done by volunteers can make a huge difference in a senior's quality of life. On Thursday during the live broadcast, you can call in to ask Sharon questions at 845-331-9255.
Jewish Family Services has new quarters at 280 Wall Street in Kingston above the Board of Elections. Their phone is (845) 338-2980, email JFS.Ulster@gmail.com and their website is JFSUlster.org
*If you miss the half-hour broadcast you can hear it online. Just go to mykcr.org, click on program archives, and fast forward about 2/3rds through the recording.
A senior moment or . . . what was the word? Alzheimer's

Town of Ulster, August 22, 2011  Wendy K. Rudder, LCSW and Care Consultant for the Alzheimer's Association presented the basics of the disease to some fifty senior residents of The Birches at Chambers and Chambers Court who gathered today in the Community Room at The Birches at Chambers. This  is the latest affordable senior community developed and managed by Birchez Associates. Ms. Rudder had been invited to speak through the efforts of Senior Advocate for Birches Associates, Alice Tipp.
Alzheimer's Disease is an irreversible, progressive brain disorder that affects memory, behavior, personality and muscle control. And the numbers are startling: While Alzheimer's generally affects people 65 or older, a quarter of a million under 65 have the disease. Over the age of 65, one out of eight people has the disease. The likelihood of developing the disease doubles every five years after age 65 so that 49% of those 85 and over have Alzheimer's — nearly one in two people.
Already more than 5 million Americans live with Alzheimer's and yet the Baby Boomers are just crossing the age 65 threshold. It is estimated that without a cure, Alzheimer's will move up from the #7 cause of death among adults to number one by the middle of this century.
Ms. Rudder shared the 10 Symptoms of Alzheimer's Disease with her audience, careful to explain that just forgetting where you put the keys last night or temporarily forgetting someone's name or a movie title you saw two weeks ago are probably more senior moments than symptoms of the disease. www.alz.org gives some good examples of the difference between senior moments and symptoms under "Know the Ten Signs". The 10 Symptoms are:
Memory loss that affects everyday living
Challenges in planning or solving problems
Difficulty completing familiar tasks
Confusion with time or place (even familiar places)
Trouble understanding visual images and spatial relationships
New problems with words in speaking or writing
Misplacing things and losing the ability to retrace steps
Decreased or poor judgment
Withdrawal from work or social activities (initiative)
Changes in mood or behavior.
Wendy suggested that the above symptoms may merit a visit to a neurologist. And she stressed that one or two of the symptoms by themselves may not mean an Alzheimer's diagnosis. Sometimes the combination of medications, or the body's inability to absorb B12 is enough to mimic these symptoms.
The Alzheimer's Association can help in many ways including education, referrals  and caregiver groups. Their helpline and website is www.alz.org. The Hudson Valley/Rockland/Westchester, NY Chapter is housed in Poughkeepsie. If you are calling from Ulster County, use 845-340-8474. The Walk to End Alzheimer's raises funds for global research and to provide support services locally. In this area the Walks to End Alzheimer's will be Saturday, October 15th in Poughkeepsie and Saturday, October 22nd in Stone Ridge. To sign up, www.alz.org/hudsonvalley or call 1.800.272.3900.