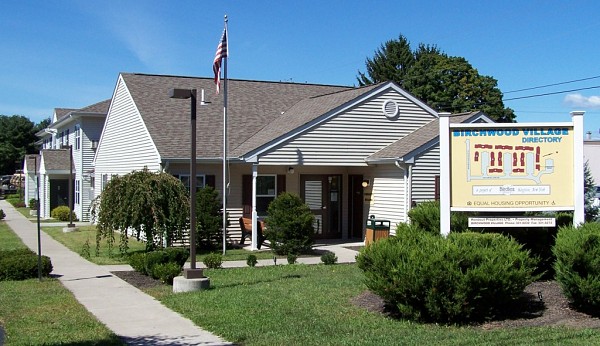 Birchwood Village in the city of Kingston, NY, consists of family oriented, workforce housing. This community was the first affordable housing to be built in the City of Kingston for families in more than three decades and the first ever in Ulster County to be built in partnership with New York State Division of Housing and Community Renewal's Section 42 Program. Proof of the need for work force housing were the 500 applications initially competing for the 80 units (400 received in just the first week of rent-up).
Here two and three bedroom units in a park-like setting give families an opportunity to have quality, safe housing at affordable rates. As at all of the Birches Associates communities, our on-premises staff and 24-hour emergency maintenance help to keep the community looking like new. The location provides ready access to major employers, malls and more, significant for the working families who call Birchwood Village home.
The Birchwood Village community sets aside apartments for veterans, an underserved segment of the affordable housing market. There are a limited number of handicapped accessible units. Heat and hot water is included in the rent to allow for better budgeting for our residents.
Birchwood Village extends to the community through the Big Brothers/Big Sisters program and P.E.R.K.S., a substance abuse prevention program for middle-school aged youth that is facilitated weekly in partnership with a group of local churches. You may reach the Birchwood Village site directly at BirchwoodVillageKingston.com.
"I was especially impressed with the care and attention that Rondout Properties and Birchez Associates' staff gave me in helping me find a new home for myself and my children."
- R. Jones