The Birches at Chambers
3000 Maple Lane
Ulster, NY 12401
845-338-7571 office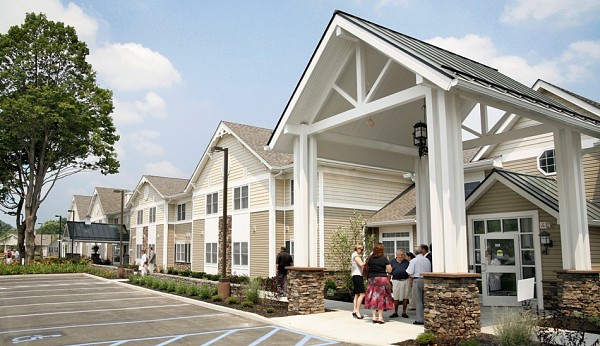 There is a critical shortage of senior housing in our area. The Ulster County Housing Consortium has launched a campaign, Give Housing a Voice, that's covered in our news section (or can be found at www.GiveHousingaVoice.com). We have joined to encourage a healthy housing mix in our communities. Please join.
Our latest senior affordable housing community, The Birches at Chambers, is sited next door to our first, Chambers Court in the town of Ulster. Green-oriented, The Birches at Chambers building complex is built to LEED specifications (click here for sustainability video). The two wings, while connected, are built as free-standing buildings which provide duplication of services as well as adding to the safety of each section. A cottage with four units brings the total number of apartments here to sixty-six.
Common rooms include a main welcoming two-story foyer, community room (with full kitchen) that opens to a patio, and a media room also with a kitchen whic h helps for the popcorn accompaniment while watc hing a classic film or new Indie produced in the Hudson Valley. A fully equipped fitness suite is staffed by a trainer skilled in senior exercise (at no cost to residents). And through our innovative strategic alliance with Elant Inc., The Birches at Chambers features "The Nurse is In" program for which an RN has office hours on site to provide health and wellness education, blood pressure screenings, and referrals to a variety of resources. Our senior advocate, Alice Tipp, is also on site weekly as a resource.
Two-bedroom units feature special accommodations for medical equipment and more flexible use of space by, and room for, caregivers. All units feature roll in showers and emergency pull cords in both bedrooms and baths. All units are at least handicapped ready and many are handicapped accessible -- all part of our aging in place philosophy. Click here for video.
Storage units provide extra space for out-of-season storage. This spring landscaping will provide a butterfly garden and a victory garden with hopes to encourage cooperative gardening and appreciation programs with the neighboring elementary school.
The Birches at Chambers welcomed our very first resident on Friday, April 2nd -- the spirited Cindy Grill. Please click here for the story of Cindy's "community" move in. A special thanks to Vinnie Organtini of Ulster Excavating. Vinnie, who lives nearby, volunteered his time, and that of his crew and friends, to move Cindy. Several members of the building crew have helped with the move or housewarming gifts as well. Before the month was up, we were fully rented -- another tribute to the quality of The Birches communities, yet also reflecting the shortage of such needed housing.
You may reach The Birches at Chambers site directly at TheBirchesAtChambers.com. If you click on the CONTACT tab, you can download an application. We encourage you to join the waiting list. As an apartment becomes available we go down the waiting list to the next qualified person(s) who is ready to move in. You can drop off your application at the office just to the left of the central foyer at 3000 Maple Lane (come in through the highest green portico) or pop it in the mail to us at 3000 Maple Lane, Kingston, NY 12401.
For a radio interview done in 2006 with WAMC during the very early stages of this project, click here