The Birches at Chambers
Emergency Guide
The Birches at Chambers has two distinct emergency systems.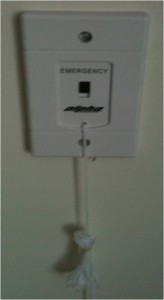 The first, for health emergency, is controlled by the pull cords located in the bathroom and bedroom(s).
When pulled, this system alerts the 911 (EMS) system. In addition, a strobe light flashes outside the affected apartment and bells go off in the hallway. An electronic panel at the building entrance displays the apartment number and nature of the emergency. The caretaker is also alerted.
The emergency pull cord units are sensitive for your protection. Please do not leave children unattended near the cords as once the cord is pulled the ambulance will come (there is no manual override). Also don't place bed pillows too close to the bedroom pull cords less they become entangled and accidentally set off the alarm. If you have a cat make sure the cord is not left too loose and become a play toy for the cat! Repeated false alarms will result in fees payable to the EMS/ambulance.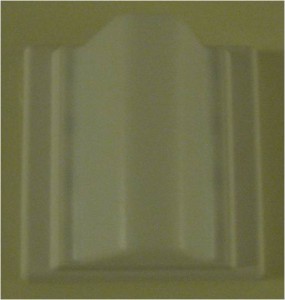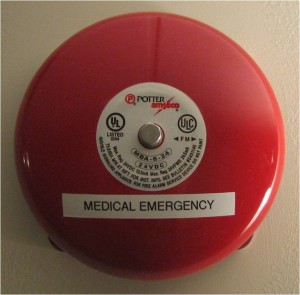 In the event of a fire emergency triggered by smoke detectors or a pulled fire station alarm (right)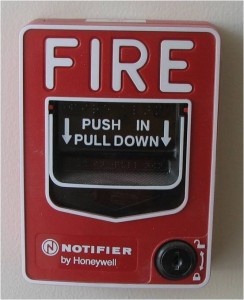 , loud horns sound and additional emergency lights flash (below) in the hallways. When you hear the fire alarm, please follow these steps: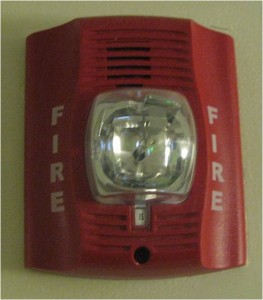 1)    DO NOT PANIC.
2)    Touch your apartment door prior to opening it. If the door is not hot, open the door and exit your apartment.
3)    If your door is hot, that may indicate the fire is outside your door, so do not open the door. If you are on the first floor and can safely exit out the window, do so.
If you are unable to exit out of the window, open your window and yell for help so the fire personnel can aid you in exiting the building.
3)  Go to the nearest exit door or stairwell to exit the building. Follow the map provided for the nearest exits.
4)  DO NOT USE THE ELEVATOR.
5) Once outside the building, please go as far from the building as possible. If there are fire personnel onsite, follow their instructions for everyone's safety.
Please be aware that your personal property is not insured with our insurance company. We encourage you to purchase renters' insurance. If you need help in locating an insurance agent, please contact the office at 845-338-7571 for assistance.
Fire Safety: Due to safety issues and for insurance reasons, you are not allowed to burn candles at The Birches at Chambers.
Preparedness Kit
Whether it's prolonged winter blizzards, hurricanes, or just a snap of very cold (or very hot) weather, it is especially important for our senior residents to have a preparedness kit put aside for emergencies. So here's a list of things to place in a sturdy bag.
Flashlight with extra batteries (check these batteries at least once a year)
Water bottles (one gallon of water per person per day for at least three days, for drinking and sanitation is generally recommended).
Prescriptions (the list of prescriptions you take) and a few days supply of critical medicine. Check with your doctor's office for "samples" for this purpose.
Food, at least a three day supply of non-perishable food.
First aid kit.
Whistle to signal for help.
Moist towelettes for personal sanitation.
The list can go on, and you can adjust it to your personal needs.
Hurricane
When we have a hurricane or severe storm warning, staff will place chairs, tables, planters etc into storage for the duration of the storm. This is for your safety. Please park your car away from trees. If you have any special needs, please call the office at 845-338-7571.
Earthquake
While The Birches at Chambers is not in an earthquake prone area, we occasionally have had some rumblings. So just in case, we're posting FEMA's advice on what to do if you find yourself experiencing an earthquake:
IF YOU ARE INSIDE:
Take cover under a sturdy desk, table, or bench or against an inside wall, and hold on. If there isn't a table or desk near you, cover your face and head with your arms and crouch in an inside corner of the building.
Stay away from glass, windows, outside doors and walls, and anything that could fall, such as lighting fixtures or furniture.
Stay in bed – if you are there when the earthquake strikes – hold on and protect your head with a pillow, unless you are under a heavy light fixture that could fall. In that case, move to the nearest safe place.
Use a doorway for shelter only if it is in close proximity to you and if you know it is a strongly supported, loadbearing doorway.
Stay inside until shaking stops and it is safe to go outside. Most injuries during earthquakes occur when people are hit by falling objects when entering into or exiting from buildings.
Be aware that the electricity may go out or the sprinkler systems or fire alarms may turn on.
Do not use the elevator.
IF YOU ARE OUTSIDE:
Stay there.
Move away from buildings, streetlights, and utility wires.