Giving Back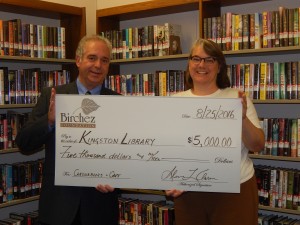 One of the core values at Birchez Associates is to give back. Steve Aaron, Founder and Managing Member of Birchez Associates, along with his wife Judy and son Josh established the Birchez Foundation to assist the company's philanthropic efforts. Under Steve Aaron's guidance, we look to support not-for-profit groups and agencies that focus on seniors, veterans, workforce families and sustainability. Whether through the Foundation or direct donations from Birchez Associates, in the last few months alone we have given over $20,000 to local causes. Here we highlight two of the many causes that we have supported.
The Kingston Library applied to The Birchez Foundation to help them bring the Library to Seniors. Their grant winning proposal: a Mobile Technology Training Center. Initially the focus of the Mobile Center is seniors, especially those who find getting to a library difficult. "We have noticed that many of our seniors, especially those in their late 70s and above have not acquired basic computer skills," observed Steve Aaron. "Our onsite computer centers can be intimidating for those not familiar with these basic skills. I applaud Library Director Margie Menard's perception in bridging this gap. Even if a senior's use is just for email and Facebook with friends and family, this can bring joy and a sense of community to one's life."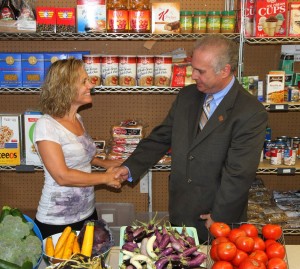 People's Place of Ulster County, with a thrift store and food pantry in Kingston feeds, clothes and responds to the essential needs of people, including seniors and workforce families. Recently they opened a Food Hub in their basement which is used by a number of agencies to store frozen food and produce.
"Birchez has been the sole sponsor of the Help Fight Hunger dinner raffle for a couple of years, and they have contributed as sponsors for our Toy Trot and Sip-N-Sail," said Christine Hein, Executive Director of People's Place. "Birchez' contributions helped springboard these major fund raising activities for People's Place."
Other recent recipients include Resource Center for Accessible Living (RCAL), Kingston Community Radio (myKCR.org), the Ulster County Shrine Club, Warrior Weekend (through the local American Legion and VFW posts), Ulster County Chabad Lubavitch and Jewish Family Services.
If you represent an organization that would like to apply for the next round of The Birchez Foundation grants, you can download an application by clicking on: Birchez Foundation Grants Application 2016-2017 or call for more information 888-980-0090. The dedadline is December 15, 2016.