Holiday Party Has Seniors Rocking to the Beat
Holidays can be lonely for seniors living on their own. But at the Birchez Associates communities, you'll find many ways to celebrate the holidays. In addition to cosponsoring the Kingston area senior New Year's Eve party (to watch video, click here), Birchez owners Steve and Judy Aaron also hosted a holiday party for all their senior residents and staff.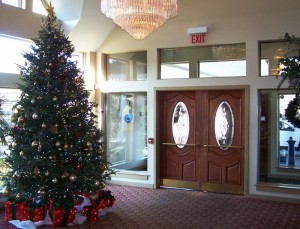 At The Hillside Manor, a popular dining and events destination in Kingston, Birchez took over . A decorated Christmas tree welcomed guests in the foyer, with holiday decoration throughout. Cocktails and hors d'oeuvres started the event in the front ballroom. Then festivities moved to the full back ballroom (complete with its own Christmas tree and Menorah) for dinner and dancing.
Special guests included Congressman Maurice Hinchey who spun at least one senior on the dancefloor. County Treasurer Eliott Auerbach and his lovely wife Judy, County Clerk Nina Postupak, County Legislators Peter Loughran, Hector Rodriguez and Walter Frey, as well as Town of Esopus Council members Kyle Barnett, Gloria VanVliet and Donna McAuley also joined the party.
The band leader of "Outside the Box" thought he was doing the right thing when he mentioned a 92 year old resident was on the dance floor, only to have other dancers raise their hands to say "I'm in my nineties too!"  From the salad course through desert, the dance floor was in motion. Whether a classic melody or a cover of a contemporary song from Lady GaGa or Adele, guests were up and dancing. Chambers Court Resident and Centenarian Bill McDonough didn't dance but had a front row table to watch others do so.
Pointsetta centerpieces obtained through the local Boys & Girls Club were given to those residents who found a lucky penny underneath their place setting. In addition to peach melba for desert, plates of cookies from local Deising's Bakery provided some extra energy for seniors to keep the dance floor full.
And for residents who no longer drive, A.N.N. Transportation provided a handicapped bus and van to get everyone to the event. After four hours of partying, there was even some grumbling when the announcement was made that the bus and van were ready for loading to take residents home. "Already?" some were heard to exclaim!
For additional pictures, see Holiday Party album on Facebook