Internationally recognized, the LEED green building rating system, administered by the US Green Building Council, promotes design and construction practices that reduce the negative environmental impacts of buildings and improve occupant health and well-being.
Through a rigorous third-party rating system, developers seek acknowledgement that a building is truly "green".  The LEED rating system offers four certification levels for new construction — Certified, Silver, Gold and Platinum — that correspond to the number of credits accrued in major green design categories:
Sustainable Sites
Water Efficiency
Energy & Atmosphere
Materials & Resources
Indoor Environmental Quality
Awareness & Education
Innovation in Design
Regional Priority
The Birches at Chambers is now in an elite international group that has achieved LEED Platinum. The largest East Coast affordable low-rise multi-family housing project, this is the third largest in the US or Canada to earn this certification. Additional stats:
One of only five multi-family Platinum projects in the state of NY.
Third largest affordable project in the state of NY.
Ninth largest low or mid rise multi-family (including custom and market rate) in the US and Canada.
Only multi-family in the Hudson Valley to achieve LEED Platinum.
Studies now show the direct relationship between health and sustainability. Improving seniors' health in green building extends life – and the quality of life.
Building Green means investing extra dollars today to reap long-term benefits. Not the least is to keep apartments affordable for our senior residents. And to remain LEED certified demonstrates an ongoing commitment through energy audits, recycling, and education. To scope out our progress, click here to see CO2 avoided and the power being generated by our photovoltaic array for the East Wing alone (snapshot below).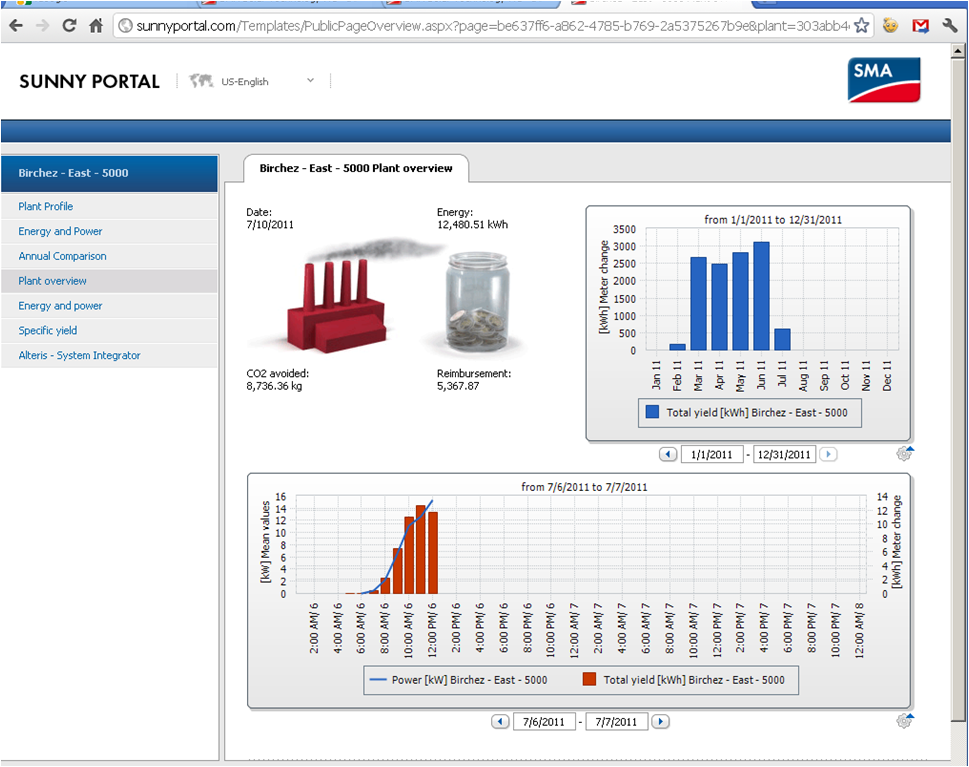 Solar thermal and photovoltaic panels break dependency on domestic fossil fuels and imported fuels that have throttled our national economy. Local sourcing of materials shows an additional commitment to the regional economy and to the planet by reducing the environmental costs of transporting goods.
Below is a picture of one of the two mechanical rooms at The Birches at Chambers showing the high efficiency condensing boilers to the right (one each for radiant heat, baseboard heat and hot water takes care of half the building — 32 units and common space). To the left is a glimpse of the controls for the solar thermal array.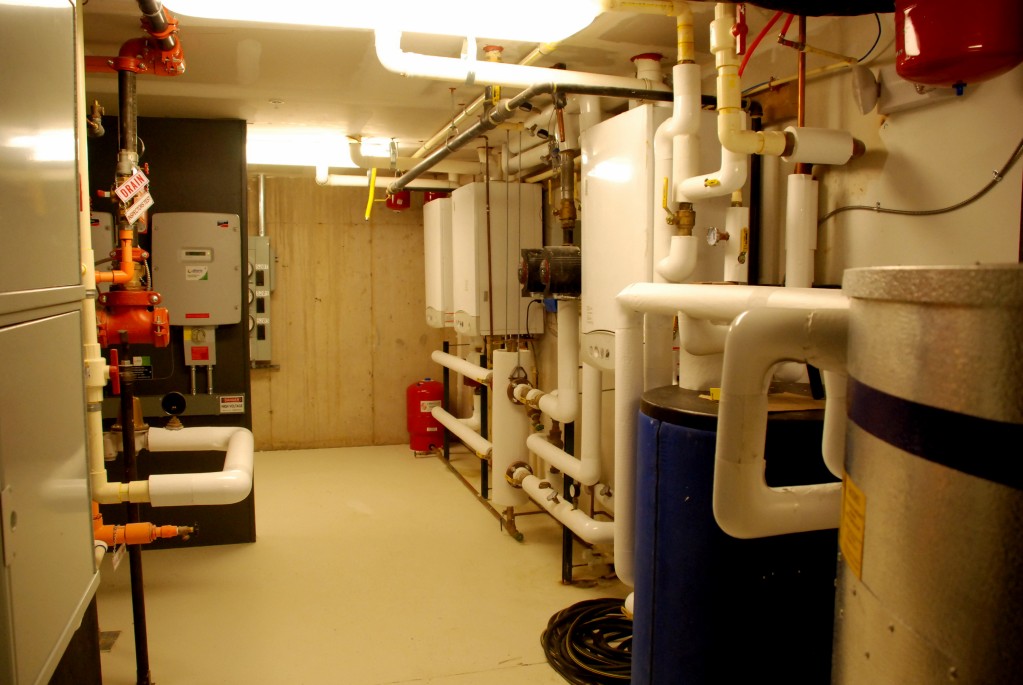 Here's the corresponding solar thermal array on the roof of The Birches at Chambers: