Maurice Hinchey salutes Hudson Valley LEED Platinum award winner
Kingston, NY, 7-11-2011  At a panel on "Green Housing & The Baby Boomers," U.S. Representative Maurice Hinchey (D-NY 22nd District) spoke of the significance of healthy green buildings, especially so when it is provided at the affordable senior housing level. At the presentation held at The Birches at Chambers, Hinchey spoke with pride that his district now has a LEED Platinum award winner in the multifamily category, the only one in the Hudson Valley.
Hinchey is shown here with Steven L. Aaron, the Founder and Managing Member of Birchez Associates LLC, the developer and management company for The Birches at Chambers. Hinchey addressed an audience of elected officials, business and civic leaders during the presentation at Birchez' latest senior community in the town of Ulster.
The event, "Green Housing & The Baby Boomers" covered issues of health and dignity for seniors, especially with the start of the  impact of the burgeoning Baby Boomer wave upon the country and the county. Hinchey honed in on how important LEED Platinum is to The Birches at Chambers, a 66-unit community adjacent to Chambers Court, the 72-unit original Birchez' senior housing community completed just seven years ago.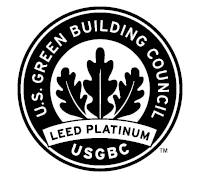 The Birches at Chambers is now in an elite international group that has achieved LEED Platinum, developed by the US Green Building Council. The largest East Coast affordable low-rise multi-family housing project, this is the third largest in the US or Canada to earn this certification. Additionally, The Birches at Chambers is:
One of only five multi-family Platinum projects in the state of NY.
Third largest affordable project in the state of NY.
Ninth largest low or mid rise multi-family (including custom and market rate) in the US and Canada.
Only multifamily project in the Hudson Valley to achieve LEED Platinum.
In addition to using local workers on the construction, Aaron pointed out the local sourcing of the solar panels which both helps the local economy and decreases the use of fossil fuels in transporting materials.
Other panelists were Greg Watson, Assistant Commissioner for Regional Affairs, NYS Homes and Community Renewal (NYS HCR), William C.  "Willie" Janeway, Region III Director, Department of Environmental Conservation (DEC), Michael Hein, Ulster County Executive Officer, LaMar Hasbrouck, MD, MPH, Director of Public and Mental Health for Ulster County, Joseph Malcarne, LEED AP, member of the US Green Building Council and President of Malcarne Contracting, and the host of the event, Steven L. Aaron, Founder and Managing Member of Birchez Associates.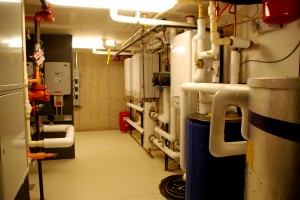 Following the panelists remarks and the presentation of the LEED Platinum award to Steve Aaron and his wife Judy who contributed to design work (both interior and exterior), attendees were treated to tours of the building including mechanical rooms to see how the solar thermal  and photovoltaic panels, high efficiency condensing boilers and state of the art circulating pumps all came together to help towards the LEED Platinum designation.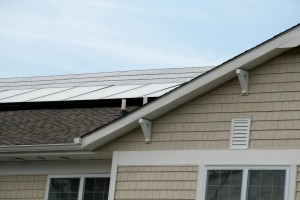 The tours of the building included the fitness studio with a specially trained senior fitness instructor, crafts room, library/game room, computer lab, and much appreciated on a hot day, the state of the art theater which cooled visitors after spending time in the warmth of the mechanical room. To the left is a partial view of the array of solar thermal and photovoltaic panels on the roof of the main 62-unit building which received the award. (LEED Gold was attained for the cottage units and caretaker's home.)