Meet Number 1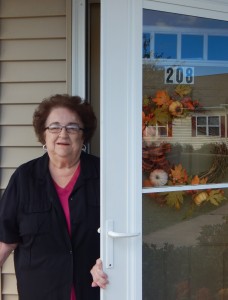 Steve Aaron, Founder and Managing Member of Birchez Associates, gave Phyllis Sonner a nickname: "Number 1". When Chambers Court opened in 2004, Phyllis was the first Resident to move in. And Steve Aaron remembers it well. He was visiting the property the day Phyllis and her possessions arrived.
Only one problem, there was no one from the then property management company to meet or assist her. So Steve jumped in and helped Phyllis move.
Steve also vowed that day that he would fashion a property management company that would treat all Residents as members of the family. That was the inspiration for Rondout Property Management taking over the day-to-day operation of Chambers Court and all our subsequent communities.
Phyllis, a Kingston native, remembers Steve Aaron, from before her first day at Chambers Court. When Steve was a youngster, he used to stop in with his father Marty Aaron at the Furniture Factory where Phyllis worked for many years. And later, Phyllis of-ten saw Steve working at Fowler &Keith, the family's industrial hardware company.
Today, Phyllis is proud to be the grandmother of six and the great grandmother of three. Despite having two of her children living in North Carolina, she has had recent visits with both. One of her grandsons and his wife both served in Iraq, which could account for some of the red, white and blue décor in Phyllis' cottage.
A Resident for twelve years, Phyllis remains a vibrant member of the Chambers Court Community. "I can't say enough about living at Chambers Court. It's safe, so nice and pretty, so convenient. And for the amount we pay, I am so appreciative!"
P.S. We borrowed Phyllis' Welcome chair, complete with Fall Flowers, for this issue's masthead. Phyllis is known for the seasonal decorations of her door and entry area.
With 72 cottages, Chambers Court is in the town of Ulster, adjacent to both Chambers Elementary School and The Birches at Chambers which opened in 2010.