NYSERDA Recognizes Birchez Associates Outstanding Sustainability Efforts
Birchez Associates is constantly pushing itself to stay on the forefront of sustainable building practices.  But what does that mean?
Simply put, sustainability is all about keeping energy consumption in line with energy resources.  And thanks to solar thermal panels at two Birches communities — Esopus and soon-to-be-installed at Chambers — the company has been recognized for their efforts. (Click here for video on sustainability.)
On July 8, at the official dedication ceremony of The Birches at Chambers, Birchez Associates was presented with a plaque from Michael Colgrove, the Director of Energy Programs with the New York State Energy & Development Agency, or NYSERDA.  The building in the Town of Ulster is expected to use over 40 percent less energy than a building constructed under normal practices.  This number is an improvement over the energy savings found at The Birches at Esopus, which uses 30 percent less energy than a typically constructed project, a no less impressive feat.
"Not only does that mean lower energy bills for all the tenants who live here, but also a much more comfortable environment to live in as well," said Colgrove as he handed the plaque over to Steve Aaron, the founder and managing member of Birchez Associates.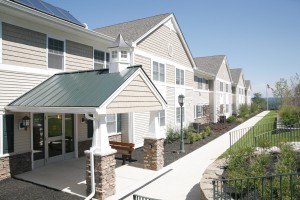 The panels at The Birches at Esopus provide 30 percent of the building's heat, and a whopping 70 percent of the energy for the building's domestic hot water.  And it's expected that The Birches at Chambers will go beyond the already high bar set by Esopus.
"It's NYSERDA's mission to provide incentives to folks like Steven who have the vision and the dedication to the environment to make these steps, to go out of the box and do things that other people are not doing," said Colgrove, who declared that The Birches at Chambers would join its predecessor at Esopus as a New York Energy $mart building.  "Because of their effort they've earned somewhere around a $200,000 grant from NYSERDA for this effort."