Innovation continues at the communities developed by Birchez Associates long after the last hammer is put down. At its senior affordable housing communities, these innovations speak to the health and wellness aspects of aging in place. Meanwhile the company continues to review the changing landscape of  independent senior housing and anticipates adding additional services to enhance our aging in place philosophy.
Birchez Associates works with a number of area agencies through the Senior Advocate, Alice Tipp. Ms. Tipp who had served the county legislature for 30 years and significantly as Chair of the Human Services Committee, is knowledgeable in senior services in the area and refers these services to our residents and their families. For example she has coordinated the Care-a-van visits each year to each property to provide blood pressure and glucose screening. Coupons for the local Farmers' Markets and access to food programs are provided. In addition, Jewish Family Services offers bereavement counseling and mental health services. Health & Wellness days have been coordinated in which many agencies and companies may present their services. Several local home health care agencies provide services to some of our residents at all our communities.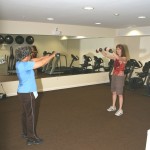 At the fully equipped exercise studios in both Ulster and Esopus, Birchez provides a fitness trainer to provide training and motivation for senior residents. These services, compared to having a health club at home, are provided free of charge through a strategic partnership with Kingston's Signature Fitness. The individualized instruction, based on their program Senior Mind and Body Strengthening, is ideal for our residents. In the photo to the left instructor Barbara Devine is seen providing upper body strength training with a resident.
Birchez Associates commitment to aging in place is also exemplified in the extensive ADA compliance of our apartments. In the accompanying video, you will see how amenities and strategic partnerships combine in affording quality of life to our residents. Just click on the arrow to view.