Scary Stories come to The Birches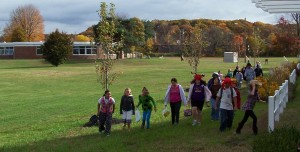 Ulster, NY 10.29.10 –  Chambers School elementary students, all members of the Nature Club, accompanied by Club member Charlotte Adamis and parents walked over after school for a Halloween gathering at the  community room of The Birches at Chambers, the senior housing community that adjoins the school property. Greeting the students were residents of both The Birches at Chambers and Chambers Court, many of whom in costume, ready with treats for the students. The students showed off their costumes,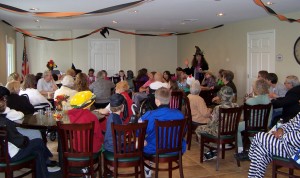 chatted with residents and entertained with a scary reading of Scaredy Cat, Splat! by Rob Scotton.
The new book, a recent acquisition to the library, was read without prior rehearsal by two of the students to much laughter and applause. In the picture to the right, club mentor and school librarian Adamis speaks to some of the audience. Even the parents got into the spirit of the event sporting costumes — some scarier than the children's! The event was one of several intergenerational activities with the neighboring school's Nature Club.