Kingston, 11-10 by Kim Plummer
Over the past few years there has been a dramatic decrease in the number of affordable housing developments being built throughout New York State. For aging boomers seeking affordable housing, the key is to start looking early, do your homework, and reach out to local agencies, sources say.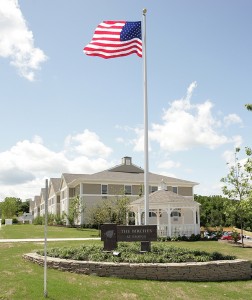 Ken Harris, senior policy analyst for New York Association of Homes and Services for the Aging (NYAHSA) says the decline in this sort of housing can be attributed to increased costs and zoning issues. "A lot of housing that needs to go through zoning changes is finding opposition from neighbors in many cases," Harris says. "It's a recent trend that's difficult." . . .
When looking for affordable senior housing, one should keep in mind that affordable housing can still be very competitive with market-rate housing as far as amenities go. A lot of people believe the more you pay, the more services you get, but that's not always the case, Harris says.
Housing is unique; amenities, transportation services, and communities vary quite a bit, even in the realm of affordable housing units. Harris suggests people do their homework when searching for affordable housing; one element he finds particularly important to seniors is an onsite service coordinator.
"The service coordinator is sort of like a linchpin between the resident and services in the community," Harris says. "They can help the resident find resources in the community – everything from Medicare, Medicaid, help with information, and supportive health services."
Currently, The Birches at Chambers in Ulster and the Birches at Esopus in Ulster Park are two ADA-compliant, affordable housing facilities resembling market-rate housing. Amenities in the average rental price of about $750 per month include fitness trainers in the onsite fitness studio, a movie theater, community rooms, a library, fully equipped computer labs with Internet access, and craft rooms. Additionally, The Birches at Chambers is anticipating LEED Platinum certification and has been certified as a NYUSERDA Energy $mart Building. "It's not what people expect to see for affordable housing," says K.J. McIntyre, director of marketing for Birchez Associates, LLC.
Most recently, Birchez Associates has received initial funding from the Federal Home Loan Bank of New York to build affordable senior housing onto the Elant campus, a nursing home in Fishkill. This will be another ADA-compliant facility. "With the service of Elant close at hand, we can offer additional home health and nursing care as needed, while our residents continue to live in their homes, as opposed to the nursing home environment," McIntyre says.
Birchez Associates also owns and manages two additional affordable senior housing communities. Chambers Court, completed in 2004, provides cottage-style one- and two-bedroom apartments adjacent to The Birches at Chambers in Ulster. The Birches at Saugerties is another affordable senior community completed in 2006 with 60 garden-style apartments. . . .
Seniors who need assistance finding affordable housing can contact their local Office for the Aging, where they can be provided with additional consultation about affordable housing as well as Active Adult Communities that specially reserve units for affordable housing.
Photo: The Birches at Esopus
Excerpted from the full article, Affordable Housing Trends: Redefining Affordable, in the Boomer's Guide to Living 2010 published by Schein Media (Kingston, NY)
The publication is currently available by clicking here.