Birchez Associates has announced the establishment of The Birchez Foundation — a grant program that will benefit organizations who provide services that support senior citizens, U.S. military veterans, education and the environment.
"Contributing to the towns and villages where we build Birchez communities has always been one of the company's top priorities," said Steven Aaron, Founder and Managing Partner of Birchez Associates. "The Birchez Foundation will allow us to reach a new level of corporate giving. I feel very strongly about the need to support the community groups and programs that enhance the quality of life."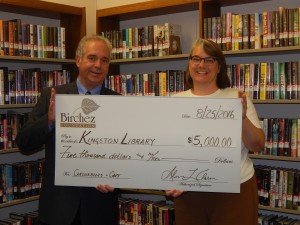 The Birchez Foundation gives preference to programs that concentrate on four areas of focus:
Providing services to senior citizens
Advocacy for U.S. Military veterans
Supporting educational programs
Preserving or improving the environment
We feel a great obligation to help fund programs that deliver critical services to senior citizens, educational organizations and military veterans — the cornerstones of local communities," said Aaron. "Preserving the Hudson Valley's precious environment is one of our company's trademarks and we believe our communities enhance the beauty of their neighborhoods."
A volunteer advisory committee comprising community and business leaders will help determine the allocation of Foundation grant money to worthy organizations.
Past and present Advisory Committee members are The Honorable Maurice Hinchey, former U.S. Representative; Al Spada, former Ulster County clerk; The Honorable Barbara Gutzler, former Town of Wappingers Falls supervisor and Dutchess County legislator; The Honorable John V. Forman, former Dutchess County Legislator; Pastor Marlow Dunham, Change Point Church, Poughkeepsie; The Honorable Larry Kithcart, former Ulster County legislator; and Leslie Price, Village of Schoharie clerk/treasurer.
Birchez Foundation grants will be awarded bi-annually. Grants will provide monies for start-up support/seed money, organizational capacity building or technical assistance.